Our
family

Story

We are a family-owned and operated Tour and Travel Company made right here in the heart of New York City. We believe traveling shouldn't be a one-size-fits-all kind of affair. Our mission is to help our clients elevate their travels with concierge-level services and tailored experiences built just for you and around you. Our family has been in the travel business since 1979, and now, the 2nd generation is stepping up with the addition of our daughter Irene to bring in fresh perspectives and meet the travel industry's new challenges.

" STRIVING TO KEEP TRADITIONAL TRAVEL AGENCY VALUES IN A MODERN, INNOVATIVE, DYNAMIC, ONLINE INDUSTRY " – Irene, co-founder.

Founder's
story
Over 40 years ago when our family was just starting in the travel business, Travel Agencies were thought of as brick and mortar storefronts where we would dutifully go to plan that much-awaited yearly Holiday. This is precisely how our family began with a small local agency specialized in selling tours and vacations in Venice, Florence, and Rome – the beautiful art cities in Italy. Over time, we grew and adapted to meet the latest industry's standards and demands. We launched our very first booking platform in the late 90s when online travel sites were still a novelty. However, in less than 10 years, the online travel market went from new to prime to overly saturated, and we didn't want to be just another eCommerce platform out there. We were missing those values that the traditional travel agency used to bring to the table –– the knowledge, the expertise, the investment in the client's journey.

We decided to use our first-hand experience with both the local and European travel markets to rebrand our business model. We started by narrowing our focus exclusively on the Inbound Travel & Tour Market here at home. By leveraging our extensive knowledge of the territory, the love for this business, the key partnerships we had established over time with other local suppliers, we tried combining the best of the travel industry's past with new trends & next-gen online booking platform. Looking back on our journey, it is quite incredible to see how much has changed not only in our family and company but across the travel industry in general. How the Traveler Persona has equally evolved. We are excited to meet the travel needs of new and existing clients at the forefront of excellence in the Hospitality Industry.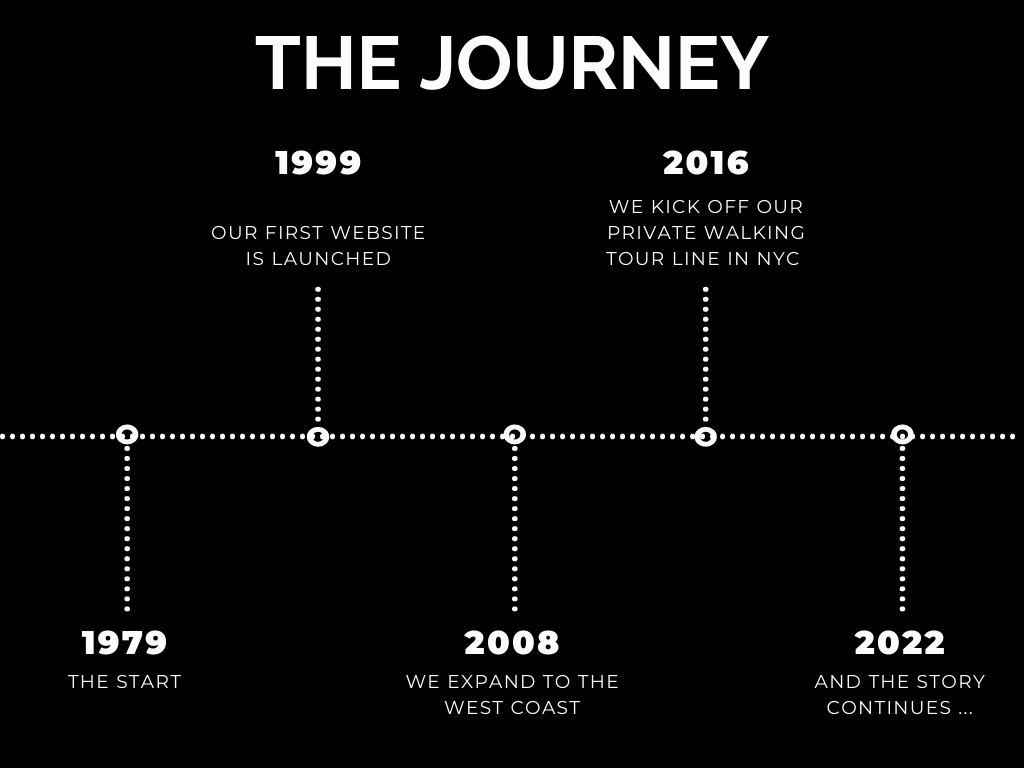 Our Journey Timeline from '79 to today
Our
core

Values

- Guide our clients in tailoring their vacations to meet and excel their expectations -

- Create a loving and inclusive traveling family -

- Give back and support our local community -
What We
offer
We specialize in tailoring New York experiences, local tours, staycations, private events in New York along with road trips and gateways across the US. Whether our clients are looking for one of our private tours or a fully-customized solution, we can create travel experiences to meet their goals and budget. Our travel services are offered regularly in English, Italian, and Spanish. On request, we can accommodate French, German, and Portuguese-speaking visitors. We work with leisure travelers, corporate, groups of all sizes as well as partner with domestic and international travel agencies to provide travel service and local support to their clients.

Let's
meet

our EXCLUSIVES ™

You may say our Bread & Butter is all-things-private. We believe the best way to experience a new destination(s) is to immerse yourself in its culture, food, life ... We love creating dedicated experiences to meet our client's goals and desires.


Private NYC Walking Tours™
---
From short neighborhood walks to themed walking tours, they are the best way to experience the real New York City.
Private & Personalized Experiences™
---
Dedicated experiences and tours in and outside the city to satisfy even the most sophisticated guest.
New York Vacation Packages™
---
Unique vacation packages tailored to your budget and needs so you can live and experience the New York of your dreams.
CONCIERGE-Level
travel

Services

These services are here to guide our guests in creating their ultimate vacation experience. We have partnered with key local companies to complement our private tours and services with lodging and ticketing options to top attractions, events, museums, and other group activities to build a comprehensive Hospitality Experience that spans from sightseeing to lodging, entertainment, and dining.


Group Tours & Activities
Budget-friendly activities to explore NYC.
Day Trips & Extended Tours
Visit the surrounding areas.
Air & Water Experiences
The best views of NYC from the air & the sea.
Night Tour & Nightlife
Meet the city that never sleeps.
Ticketing Services
Full Service Box Office.
Restaurants & Dining
Reservations & Special Events.
Building
communities
We are community-oriented. We engage extensively through our social media channels with both locals and visitors to help promote and share New York City. Here below, you can find the direct links to our official Social Media profiles. In the last decade, we have grown into a community of over 350K. We share daily updates and fun facts via stories as well as new openings and happenings via photos, videos and reels. We love connecting with new people both in person and "virtually," and we hope to be able to help you experience New York City uniquely and genuinely.
---
---
GET IN TOUCH WITH US
---

WHAT THEY SAY ABOUT US
---

LET'S WORK TOGETHER
---