: We can provide you with Arrival and Departure Transfers, Sightseeing Tours through the city onboard luxury motor coaches or famous Double-Decker buses and Private Tours. Tickets to Broadway Shows and other important Attractions like Top of the Rock, the Empire State Building and many famous Museums. Boat Tours through the Bay and romantic Dinner Cruises n elegant Yachts, Helicopter Rides and Bicycle Tours. Last but not least, the very popular Day Trips, from 1 to 5 Days, all leaving from Midtown Manhattan, to visit Niagara Falls, Amish County, the capital Washington DC, Boston, Philadelphia and much more! With daily departure year-round from the Big Apple, these Tours are the best way to discover in few days the beautiful and majestic North-East Coast and even Canada! We only work with the best and top Providers in New York and we offer Tours in English, Spanish, Italian, French, Portuguese and German.
Who we are - Our Story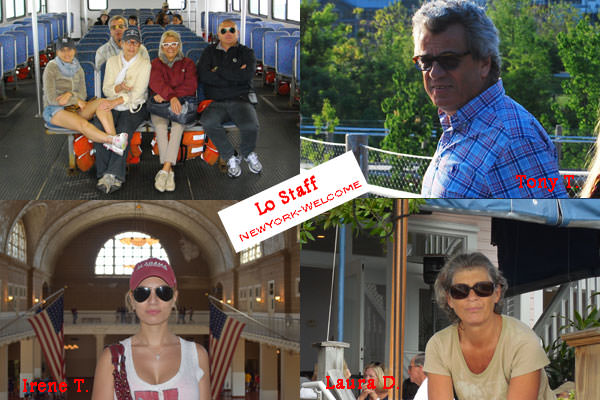 With the arrival of the year 2000 and the apparent increase in demands for Online Travel-related sites, we thought important to develop an exclusively Online Travel Agency entirely dedicated to major destinations in Europe and developed keeping in mind the ever growing International - and especially American web-clientele. Our first destinations were Venice, Florence, Rome.. The accurate choice of Providers and Products, the knowledge and expertise in the territory, the love for this job and a great team has helped us achieved great results since the early beginning. Thanks to the early success of the European Sites, we decided to move "across the pond" and incorporate USA Welcome LLC to supervise the development of websites dedicated to major cities in the US, always created keeping in mind both our domestic and International clienteles.
Originally incorporated in Nevada – USA Welcome opened its doors in New York City in early 2009 to follow from up-close the development of the site dedicated to the Big Apple and more recently the site dedicated to the sunny Miami! USA-Welcome operates exclusively Online, clients can reach Customer Service for assistance with reservations, help with itineraries, advices and much more. During Holidays and Off-Hour, clients can leave a message and request to be contacted back. Otherwise Email, the best way to get in touch with us, is always checked and the turn-around is always within 24-hour and most of the time almost instant. Behind our Online-Look, there is a professional and prepared staff always available and ready to help!
In Italy, USA-Welcome collaborates with the top Tour Operators in the market and local Travel Agencies directly located in Venice, Florence, Rome, which guarantees that all our clients get local Assistance and Customer Service during their stay in Italy. Along with all our websites: Facebook Fan-Pages, Travel-Blogs, Flickr Image-Gallery and You-Tube Video Gallery, are all at your disposal for the latest News on all our destinations! During the last few years we have carefully selected and "hand-picked" local providers and products to guarantee the highest level of quality in all the cities we cover. New York is a very large Metropolis, always in constant movement, always developing new things, which makes it essential to keep up with new services and new tours. With NewYork-Welcome.NET and our Tours, you will be able to discover the history of this magical city and all the latest News it has to offer. On the other site of the Atlantic, Italy remains one of our Top-Rated Destinations and with our Tours you will be able to discover the history of 3 of the most important "Citta' d'Arte" (= artistic cities) Venice, Rome & Florence!
Our Logos

What we offer in Italy
In Italy
: We can provide you with Arrival and Departure Transfer, Sightseeing Tours and Day Trips to visit important villages and historical towns in the beautiful Italian and countryside. Visit famous towns like Siena, Montepulciano, Verona, the majestic Dolomites, just to name a few! We only work with the best and top-notch local Providers and we offer Tours in English, Spanish, Italian, French, Portuguese and German.
News
In 2015, we released our the global site on the US:
USA-Welcome.NET
and on Italy:
Italy-Welcome.NET
where clients and agencies can find products, tours and services in all major cities in the United States and in the three Italian cities of Venice, Florence and Rome. To be closer to what you need, to offer you tips, tools, trends, and better travel experiences, we are launching a new ecosystem of services and products, a brand-new concept of online and mobile interaction with you. The Welcome Hub is arriving
Visit Our The Welcome Blog
The Welcome Blog for Travel Experiences + Authentic Fun = Unforgettable Stories:
TWB The Welcome Blog
Visit Our The Welcome Lounge
Get a Taste of your Travel Experience:
TWL The Welcome Lounge
Social Network