A packed day full of history, adventure, fun facts & anecdotes. Make sure to bring your camera, you will want to immortalize some of these moments.
A word from our MASTER guide Irene:
I recently had the opportunity to take part in this group Day Trip, and I had such a great time visiting Boston. Although, I personally lead private tours to Boston; for those that would like to visit the city without breaking the bank, I definitely recommend this Day Trip. It's a stress-free, fun and easy way to discover one truly iconic city of American History. My fellow Guides that will be with you during this tour are all extremely prepared and available to answer any question you might have. I'm sure you will have a great time just as I did a few days ago. I give 2-thumbs up to this tour and highly recommend it.
The Itinerary
Leaving Midtown-Manhattan in the early morning, 6:30 am sharp, we will head north towards Harlem and The Bronx, a great way to get to see some other areas of New York city you might have yet not visited. On our way to Boston, roughly mid-way, we will stop in Connecticut, about 2-hr from Boston, to get some Breakfast and use the restroom facilities.
After the stop, we will head to Cambridge, the small and historic town across the Charles River from Boston, possibly known as the home to Harvard University and MIT.
What we can see in Harvard Campus and Cambridge
Our morning will
start with a charming walk around Harvard Campus
where we will get to see the Weiner Library, founded in memory of Mr. Weiner who donated thousands of books to the University, and who passed away tragically when the Titanic sunk in the Atlantic Ocean. We will get inside the Memorial Church and we will
take a photo with Mr. John Harvard himself
. Want to know about the 3 lies? We will talk about those and of course, rub his left-foot.
We will finish our Tour of Harvard walking by the famous science building where the first-ever computer came to life, and by
the oldest building - Massachusetts Hall
. Continuing through some historical streets of Cambridge, we will reach the iconic home of the Harvard Crimson Newspaper. Guess where this building is featured? Tip: It's a famous show, possibly the most known one in the world, and there is a reason behind this.
From here, back on board the bus, we will finish a panoramic tour of Cambridge passing by the iconic City Hall, where the first-ever gay marriage in the US was officiated in 2009, and the "brainy" MIT, one of the most respected Institute of Technologies, Sciences, and Mathematics in existence.
Copley Square and Quincy Market with the Freedom Trail
We will drive across
the Charles River taking in the beautiful view of both Cambridge and Boston Skylines
. In Boston, we will spend some time in Copley Square, drive by some of the most iconic streets like Boston Street where the Marathon has its finish line. Later, we will cross Boston Common and reach Beacon Street, one of the most expensive streets of Boston, and the State House with its ever-present golden dome.
From here, we will follow the steps of our ancestors along the historical Freedom Trail that will take us closer to some of the most historical and important buildings not only in Boston but of our entire nation. The idea of a nation came to life along these streets. Our walking tour will last approximately 1.15 / 1.5-hour until we
reach the famous Quincy Market
. Here, we will break for lunch and you will have the opportunity to enjoy some great Chowder, fresh Lobster Roll, homemade Ice-cream and Cookies and much more, as well as of course plenty of opportunities to buy souvenirs.
Official Sites on the Trail
Boston Common
Massachusetts State House
Park Street Church
Granary Burying Ground
King's Chapel Burying Ground
Benjamin Franklin Statue & Boston Latin School
Old South Meeting House
Old State House
Site of Boston Massacre
Faneuil Hall
Paul Revere House
Old North Church
Copp's Hill Burying Ground
Bunker Hill Monument
USS Constitution
Official Sites on the Trail
After lunch, we will head back to the bus that will take us to our last stop on the tour, the Museum, and Gift Shop, of the Tea Party.
Boston: Freedom Trail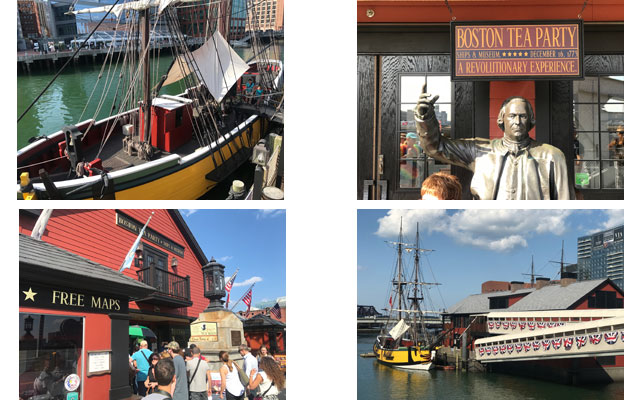 We will strive to leave Boston between 4:15 pm and 5 pm, to be back to New York in the late evening. Please bear in mind, that traffic might work a bit against us and we might not arrive before 10 pm at night. During our trip back, we will of course stop, mid-way, for restrooms and light-meal break. During the ride, you can take the opportunity to rest after our adventurous day that hopefully will leave you with great memories of Boston and our nation early years.
Available:
Sunday, Tuesday and Friday Year-round
Free Cancellation until 72 hours before your reservation starts.