Climate, Temperatures and Average Precipitation in New York in March
March is the typical month of slow "transition" from Winter to early Spring. The days get longer, 7 hours of sunshine a day, but the temperatures are still low -- lows are around 36F and highs around 50F ... So, better watch out because March is the month that can still bring heavy snow on one day, and Indian Summer on the very next one.
From mid-March onwards, cold winds are minimal and rainfall is moderate with an average of 11 days of rain for the entire month; even the humidity drops and you can start enjoying some outdoor activities. Therefore, it's recommended to wear layers [just like an onion ;-) ] -- pack a warm jacket for the coldest days, sweaters and some lighter shirts for when the Sun is out. Always good to have your k-way and umbrella ready, and a pair of waterproof shoes that can be used in the snow as well ... just in case!
Tourism-wise, March it's still considered low-season, especially early March ... Meaning fewer people, less waiting in line at major attractions and museums, and perhaps lower prices! Although this can easily change
based on when Easter falls in a particular year
, and around Saint Patrick's Weekend (always a busy - and fun - time in the city!)
When is Easter?
Sunday April 17 2022
Sunday April 9 2023
Sunday March 31 2024
Sunday April 20 2025
Sunday April 5 2026
Sunday March 28 2027
Sunday April 16 2028
Sunday April 1 2029
Sunday April 21 2030
Events in March: What to See
March is not a month packed with events, but as always New York never disappoints:
March 17th - For the popular St. Patrick's Day Parade .... The most popular parade immediately after Thanksgiving's. Would you like to know more? Read our article on St. Patrick's Day in New York and on the Cathedral.
During and around St Paddy's, New York is colored in Green and if you want to mingle with New Yorkers and other "Irish Lads", you should take the Pub Crawl Tour to visit famous NYC Irish Pubs where they - of course - offer special drinks including the ever-present Green Beer!


Orchid Show March - (starts February) For the Orchid Show, the Botanical Garden is filled with thousands of orchids in an incredible variety of colors, shapes, and sizes.


The Macy's Flower Show from March to April, You will see spectacular flower arrangements from all over the world. & It's Free.
To see more Events and current dates happening during the month of March visit:
Events in March
---
April and Spring in New York
With April, the true first Spring days arrive in New York .. the days are getting longer and the cherry trees start to bloom in the parks .... but be aware, the month of April could still bring some unexpected surprises and a few days of cold and snow!!! Let's see the temperatures:
Climate, Temperatures and Average Precipitation in New York in April
In April, the average temperatures range from a minimum of 40F to maximum around 60F degrees, New Yorkers immediately begin to crowd the parks and for visitors, it becomes pleasant to walk, ride a bike and take some boat trips. Be aware, rain can be sudden and abundant, not so much in the number of days as in quantity. Stay up to date with the
Weather in New York
Events in April - What to see
If Easter arrives on April , but it is not the only event in New York -- Let's see all the appointments in store for us this April. Some dates are not yet confirmed, we will update them as soon as they are defined:
Folk Music Festival, April - Listen to folk music, blues, jug-bands, string bands, bluegrass, Balkan and Irish at the Brooklyn Folk Festival.
Scottish Parade on April 6th - Celebrate Scotland by watching bagpipers, dogs, kilt men and plaid women marching along Sixth Avenue from 45 to 55 in the New York Tartan Day parade.
Fight with Pillows in the park on April 6th - A giant battle with pillows in Washington Square
The Comics Festival April -The MoCCA Comics Museum Arts Festival features cartoonists and celebrity illustrators on display at the Metropolitan West.
Ukrainian Easter eggs - Watch the demonstrations of Making of Pysanky (Ukrainian Easter eggs) by artists who use wax-resistant batiks
Hot sauce festival - You will find spicy salsa tastings, food vendors, cooking competitions, live music, craft beer, cocktails and awards at the Brooklyn New York Hot Expo at the Brooklyn Expo Center.
Easter Parade - Wearing an extravagant hat or a festive costume and joining people walking up Fifth Avenue from 49th to 57th Street for the colorful Easter Parade
Tribeca Festival from April to May - festival offering film, music and cultural events in Lower Manhattan.
For more info and current dates on events see:
April Event Guide
Easter Parade in New York
---
New York Weather in May
May is certainly among the best months to visit New York, temperatures are pleasant, rain is moderate but the humidity is almost non-existent (
by New York standards
). It is the right month for outdoor activities and to visit the beautiful parks and botanical gardens that New York offers. It is also the perfect time for an Excursion to Washington DC with its blooming cherry trees along the Tidal Basin and around the famous Monuments and Memorials!
The average Temperatures and Precipitation in May
Average temperatures range from 55° to 70°, therefore more than pleasant; rain can be plentiful so umbrella and k-way in New York are always a good idea!
Events in May - What to see
Now let's see some May Events happening in New York this year, we will make updates when we have certain dates, starting with:
Nonfiction film festival from April to May - Watch a different collection of non-fiction films at the Art of the Real at Lincoln Center.
Taste of the Lower East Side on May - Unlimited tastings of 50 local restaurants and bars open to the Taste of the Lower East Side in the Metropolitan Pavilion for $195 + charity.
International Food Fest May 18th and 19th - The Ninth Avenue International Food Festival offers food from around the world, international music, and dance, artists and vendors, and children's rides and games on 9th Avenue (between 42nd to 57th streets).
Festival of the arts in May - The Lower East Side Arts Festival hosts dance, film screenings, music, poetry, theater and visual arts at the Theater for the New City. Free.
Italian film festival - May - Italian life and culture presented by a new generation of Italian filmmakers at Open Roads: New Italian Cinema at Lincoln Center.
Shakespeare in the Park -- May - For tickets to Shakespeare in the Park at the Delacorte Theater in Central Park, pay $ 500 as a "supporter" or get free tickets by participating in a lottery or waiting in line.
For more info and current dates on events see:
May Events Guide
---
It's a perfect season for visiting the Lady, crossing the Hudson River and reach Hoboken, get to Brooklyn and enjoy the sunset.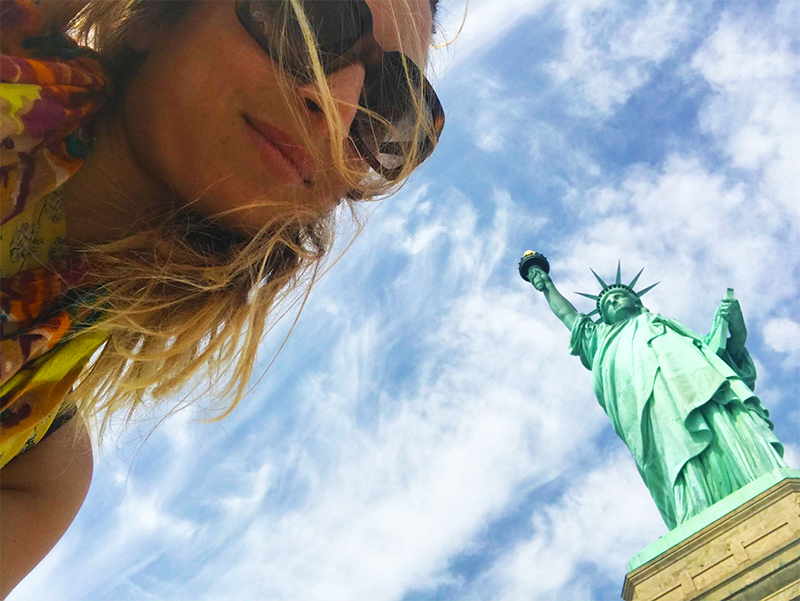 ---
Spring: The Best Time to visit New York.
As you can see, Spring is the perfect season to visit New York, pleasant temperatures, many events and happenings, prices are not very high and the presence of tourists is still acceptable.
---
New York during Spring -- Irene's Tips: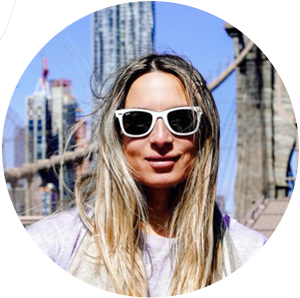 How to dress
For clothing, everything changes if you arrive in April rather than let's say early June .. In April, you should bring some heavy garments for the coldest days and for the evenings. Comfortable shoes and something suitable for rain, umbrella, and k-way. Remember that on rainy days you can always dedicate yourself to visiting museums, shopping or watching a show.
For late May and June, make sure to add a sunscreen to your luggage ... along with sunglasses and a hat. The Sun will be out and after all, once we hit Memorial Day, it's Summer for all intents and purposes!
Irene T. - NYC Tour Guide
Seasons in New York City
Summer in New York
Our Guide to Summer Events in The Big Apple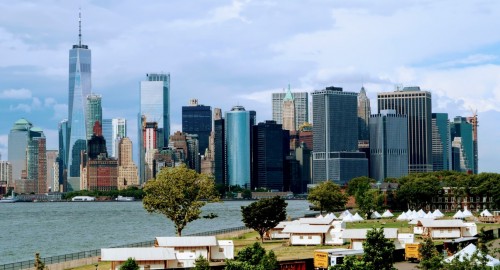 Read more
Fall in New York
Our Guide to the Fall Events in The Big Apple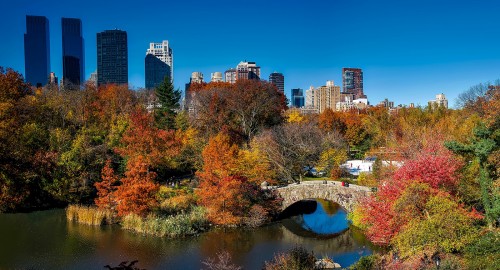 Read more
Winter in New York
Our Guide to the Winter Events in The Big Apple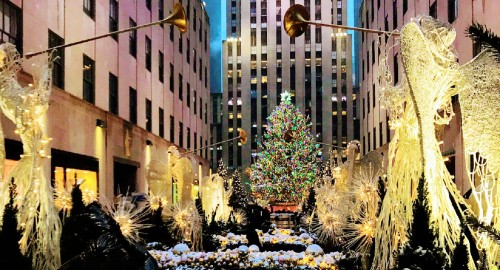 Read more