Why not gift someone (or yourself!) a Gift Card to start dreaming of the next Vacation?
Buy now the Gift Card of the value you want and you can decide later the Activity and/or Tour you would like to do. Choose from all the experiences we offer in New York, on our NewYorkWelcome website, or roam across the States on our USA-Welcome site, and choose your next US destination!
Do you want to visit New York City, explore the surroundings with a native tour guide, or discover the Northeast of the US? Choose the Gift Card of the amount you want and use it to purchase one of our services on our New York Welcome site.
Valid for two years from the day of purchase, the Gift Card has no black-out dates or other restrictions!
Examples: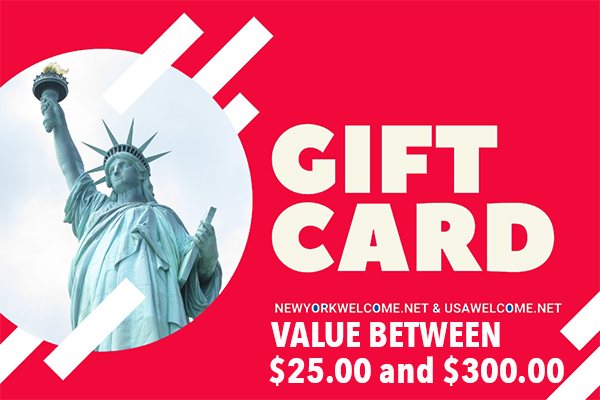 The $300 Gift Card is the most popular! It is often used to gift one of our private walking tours in New York, a city tour, a cruise, or the Attraction PASSes.
This is the Gift Card that allows you to choose the amount you wish. A great option for those who want to book a multi-day excursion such as 2/3 days Niagara Falls or 4-day American Gateways.
BUY NOW YOUR GIFT CARD
We Wish All Your Dreams Come True
Why gift a Gift Card?
If you have a friend who is planning a trip to NYC or the United States, if you are thinking of giving a special wedding present to your friends or you want to treat yourself to a magical New Year's Eve (2021/2022) in the Big Apple or in sunny Los Angeles -- this is the perfect opportunity to buy our Gift Cards!
Here are some "inspirations" for your Gift Cards:

Birthday gift
Wedding gift
"Thinking of you" gift
Thank-you gift
Baptism, Confirmation, etc. gift
Graduation gift
Anniversary gift
and many other reasons why!
---
HERE'S HOW TO USE THE GIFT CARD
The Gift Card is valid until December, 31st, 2022 and it allows you to purchase any product on our sites:
NewYorkWelcome.NET
USA-Welcome.NET
Choose the Gift Card that's right for you and immediately after the purchase, you will receive an email with your electronic Gift Card with its unique identification code. During the purchase, you can choose whether the Gift Card is for you or a gift to someone else, and you can also add a personalized message.
Once you have chosen the Gift Card that suits your needs, you can decide whether to pay online by credit card or by wire transfer by sending an email to info@newyorkwelcome.net.
To redeem the Gift Card and book one of our services, just enter the Gift Card code during the check-out. The Gift Card can be used several times until the credit runs out. The credit is automatically adjusted after each purchase.
Please note that the Gift Card is non-refundable, is valid until December, 31st, 2022, and does not allow any changes. Upon expiration, it can no longer be used and will not be subject to any form of reimbursement for any remaining unused credits.
In the event of a request for a change of date or cancellation concerning one or more services purchased (partially or entirely) with the Gift Card, the original value of the latter will not be refunded but we will re-credited the amount used towards the services to the Gift Card which will remain valid until December, 31st, 2022.
Cancellation policies and penalties are shown on each product page.