If you need to book your hotel or apartment in New York, first of all you have to choose the area. You have to decide in which Manhattan's neighborhood you want to stay or if you rather be outside Manhattan in one of the other 4 districts of New York: Brooklyn, Queens, The Bronx or Staten Island.
For those arriving in New York for their very first time, it may not be easy to select the area, the city is big and changes so much from neighborhood to neighborhood. Just by surfing the internet you will have noticed by now that New York is indeed expensive, very much so!! The city is expensive for both residents and tourists alike and any square-foot you find is a gold mine! This is why you should always bear in mind the Subway System (Metro) that takes you everywhere around the city; it is therefore not necessary to stay in the most touristy and thus expensive area of the Big Apple: aka Times Square, just make sure to have a convenient subway station nearby the hotel.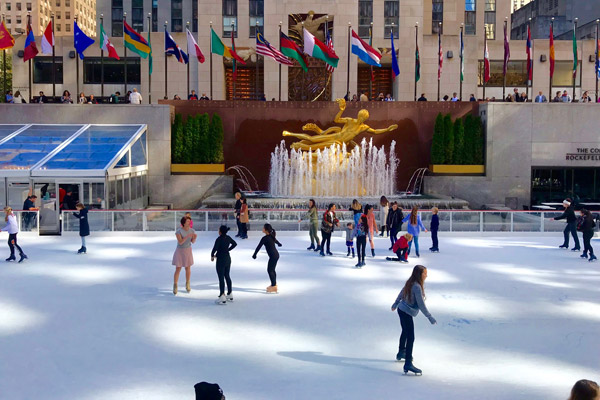 You will never be tired of walking in New York, during your stay you will do miles upon miles on your feet, day in and day out, but always remember to take the Subway for the long distances especially at the end of the day when you are most likely exhausted from all the walking you already did. The 5 star luxury hotels or Aparthotels are more or less the same everywhere, but some chain hotels, like Hilton, Sheraton etc., guarantee good standards for somewhat reasonable prices. Remember that in addition to the base nightly rate there are always fees and overnight taxes to be added on top, and almost never Breakfast is included.
Now let's see the areas of Manhattan: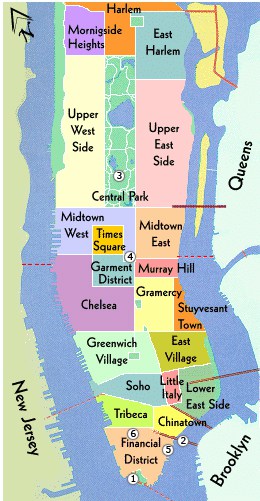 Between the Upper West and the Upper East Side
:
It should be noted that along the West side run the red subway lines (amongst the fastest) the number 1/2/3, line 1 is local, while 2 and 3 are express, and then there's Riverside Park which offers some of the most beautiful walks with panoramic views of the Hudson River. Central Park, the green heart of Manhattan separates the two Upper Sides of Manhattan so it is accessible from both sides. Upper West Side gives a laid-back family-vibe, and by going over the 100th Street and approaching the University of Columbia you will find many small restaurants, cafes and clubs where you can listen to good music. If you keep walking northbound, you arrive in Harlem, the Starwood hotel chain recently opened ALOFT HARLEM on Frederick Douglass Boulevard .. beautiful area, great hotel and courteous staff.
Staying in Manhattan Midtown e Times Square
We come now to the most popular and possibly the most requested area:
Times Square and Midtown Manhattan
. By far, this is the most touristy area in Manhattan; here you have many chain restaurants, department and flagship stores, and many attractions such as the Broadway theaters, The Empire State Building, Rockefeller Center, the Public Library and Bryant Park and Grand Central Station and the Chrysler Building. This is the area that attracts the most people, the center of the world ... but this also means high prices, sometimes inattentive service .... Let's say that you must definitely visit the area, but you can surely stay in other neighborhoods.
Very alive and rich throughout is Downtown and Lower Manhattan below 15th street. There is the Village (the Greenwich Village) with the beautiful Washington Square Park that is pretty much the NYU Campus. Then you have Nolita, Tribeca, Lower East Side and Lower Manhattan. More and more exciting is becoming the World Trade Center area which no longer is a mere business district but it has turned into a beautiful and rich residential neighborhood with plenty of outdoor space and lots of activities. The One Tower with the new observatory WTC, the Brookfield Center's new World Trade Center Transportation Hub, the new hub designed by Calatrava, called Oculus. Brookfield Place is the new shopping center that includes more than 27,000 square meters of shops, bars, restaurants and beautiful views over the Bay of New York.
Brooklyn & Queens
Brooklyn Heights
is the historic district of Brooklyn with beautiful tree-lined streets and townhouses, amazing views over the Manhattan skyline from the now completely renovated Brooklyn Park. Then we have the "new areas" of Park Slope and Williamsburg that are emerging, rich in cultural activities, small cafes, restaurants, and more!
Queens
is emerging rapidly, the Astoria neighborhood of Long Island City offer great accommodations and are well served by the Subway, you also have local Museums like the Queens Museum and the MoMA PS1 (branch of the MoMa Museum) and by subway in only 20 minutes you are right in Times Square!
How to choose the hotel
Among the most popular chain hotels that we mentioned earlier, some do offer good value for your money providing breakfast and room sizes well above New York's average, which just to be clear is the size of a shoe box; we are talking about Hotels such as Hampton Inn and Hilton Garden Inn, both part of the Hilton family, or the Four Points by Sheraton, many are located around Midtown but some are also found in Lower Manhattan, here we point out one hotel for each neighborhood we mentioned:
Hampton Inn Manhattan - Times Square North
Hampton Inn Manhattan -Soho
Hampton Inn Manhattan - Chelsea
Hilton Garden Inn New York / Tribeca
Hampton Inn Manhattan / Downtown-Financial District
Good to Know:
They all offer breakfast and internet connection included in the price. Remember to always check what is included for your standard rate when you choose the hotel .... for example make sure Internet is included for free in the Room and not just the common areas, many Hotels still charge the guests between 15 to 25 USD a day to have High-Speed Internet in the Room …. It's easy to build up few hundred dollars in extra charges without even realizing it!
If you have special request, or would like to inquire about a Hotel for your stay in New York.

Contact us by
Email-us
and we will give you some ideas at a discounted rate!
Looking for an Hotel?
Choose the right Hotel for you
Questions? Get in touch with us!