Your Covid-19 Travel Assurance - All You Need to Know Before Traveling -
UPDATED JUNE 2022
One thing is for sure, although we are better off than a year ago, traveling especially internationally might not return to "normal" for a long time. Yes, borders are reopening and local restrictions are being lifted, but certain international restrictions especially regarding vaccination & negative-testing requirements will remain in effect for the foreseeable future. Now more than ever, international travels require advanced meticulous planning to avoid shortfalls that might cost you a lot.
Let's see WHAT AN INTERNATIONAL VISITOR MUST HAVE before his/her trip to NYC/US -
Border reopening - Effective Date
On
NOVEMBER 8th
, the US Border reopened to ALL INTERNATIONAL VISITORS that are fully vaccinated.
Vaccination Requirement
ALL VISITORS
must show proof of full vaccination to enter the United States. The following vaccines are
ACCEPTED
-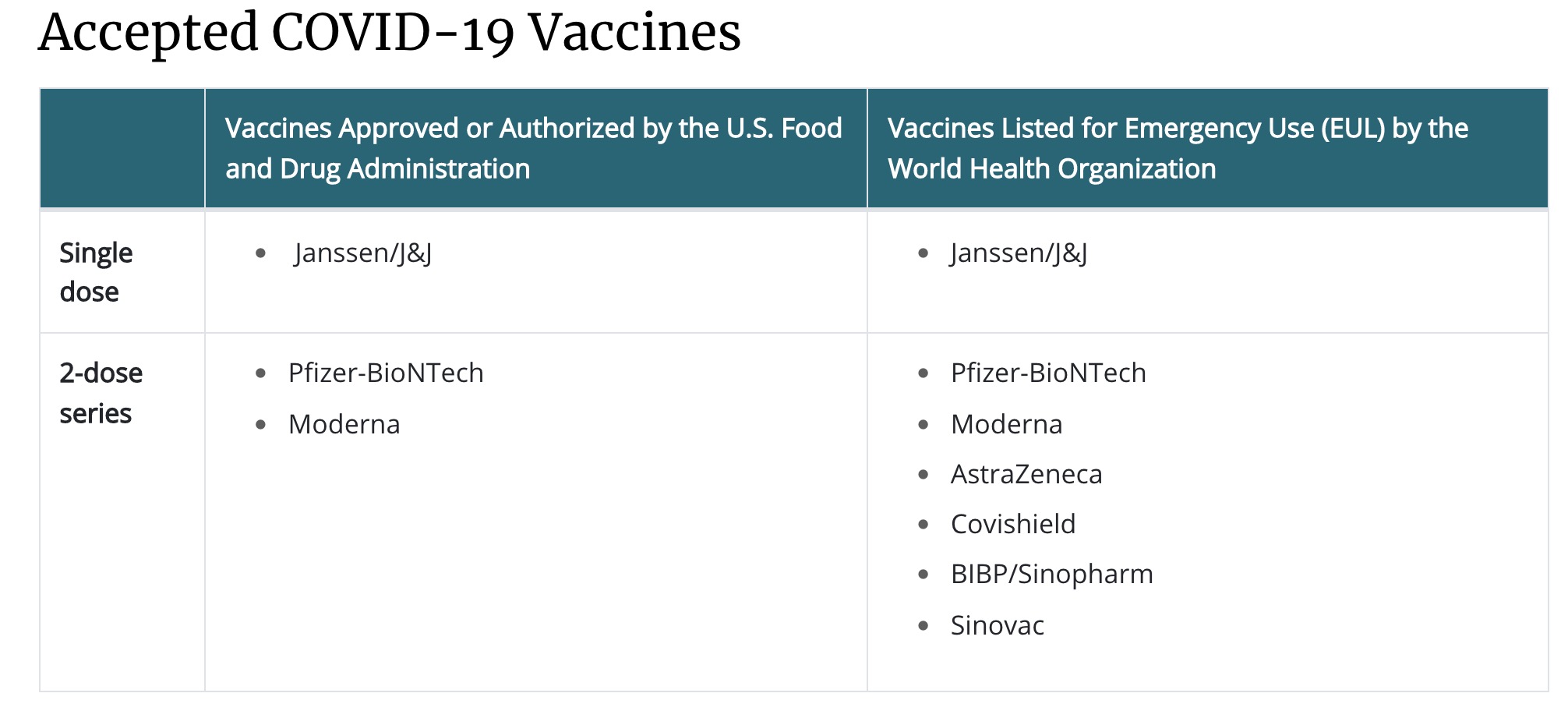 No partial vaccination is allowed, you must have followed all vaccination requirements.
Antibody & Previous Covid-19 recoveries do not excuse travelers from the vaccination requirement.
This is how you will show proof of vaccination. Please make sure your documents are also available in English can be paper or digital and must be issued by an official source and include the traveler's name – date of birth – the vaccine product & date(s) of administration for all doses received.
1. The QR code in a verifiable vaccination record links to information confirming the credential was generated from an immunization record in an official database and is protected from tampering.
2. Website:
Center for Disease Control
RETURN FLIGHT - TRAVELING BACK TO YOUR COUNTRY

Most countries have now REMOVED the requirement to have a negative COVID test before flying back home.
Please note
that since these are sovreign nations/international governements, we cannot verify the vericity of the information and
we highly encourage you to double check with your own country for the latest restictions and rules before flying back home.
Make sure to check your official government travel advisories to find all requirements. Additionally, when in doubt, it is recommened to have a recent negative Covid Test handy just in case. Generally speaking PCR test results are accpeted if performed in the last 72 hours, and Antigen if performed in the last 24 hours.
Where to Get a Covid Test in NYC for Visitors?
The Good News
- Plenty of places to get your test throughout the 5 boroughs and the majority are free.
Covid-19 Tests are free, or almost free, for residents and Americans using their medical insurances. However, International Visitors do not have local health insurance and they might be responsible for the full price of the test if they go to certain clinics that take appointments.
Selected Free Testing Sites are located throughout the city and do offfer free testing to all regardless of country of origin and insurance status.
Here is a list of places to
get tested while in NYC –

Pharmacies such as
: CVS - Walgreens - Duane Reade.
You can find free
mobile testing
all over the city like
LabQ
SAFE TRAVELS TO ALL!