Your Covid-19 Travel Assurance - All You Need to Know Before Traveling -
UPDATE DECEMBER
One thing is for sure, although we are better off than a year ago, traveling especially internationally might not return to "normal" for a long time. Yes, borders are reopening and local restrictions are being lifted, but certain international restrictions especially regarding vaccination & negative-testing requirements will remain in effect for the foreseeable future. Now more than ever, international travels require advanced meticulous planning to avoid shortfalls that might cost you a lot.
We are happy to provide COVID-19 related support to all our guests and clients that decide to book their vacations with us! E
specially our international clients as they might have to navigate unfamiliar restrictions. requirements, etc.
Let's see WHAT AN INTERNATIONAL VISITOR MUST HAVE before his/her trip to NYC/US -
Border reopening - Effective Date
On
NOVEMBER 8th
, the US Border reopened to ALL INTERNATIONAL VISITORS that are fully vaccinated.
Vaccination Requirement
ALL VISITORS
must show proof of full vaccination to enter the United States. The following vaccines are
ACCEPTED
-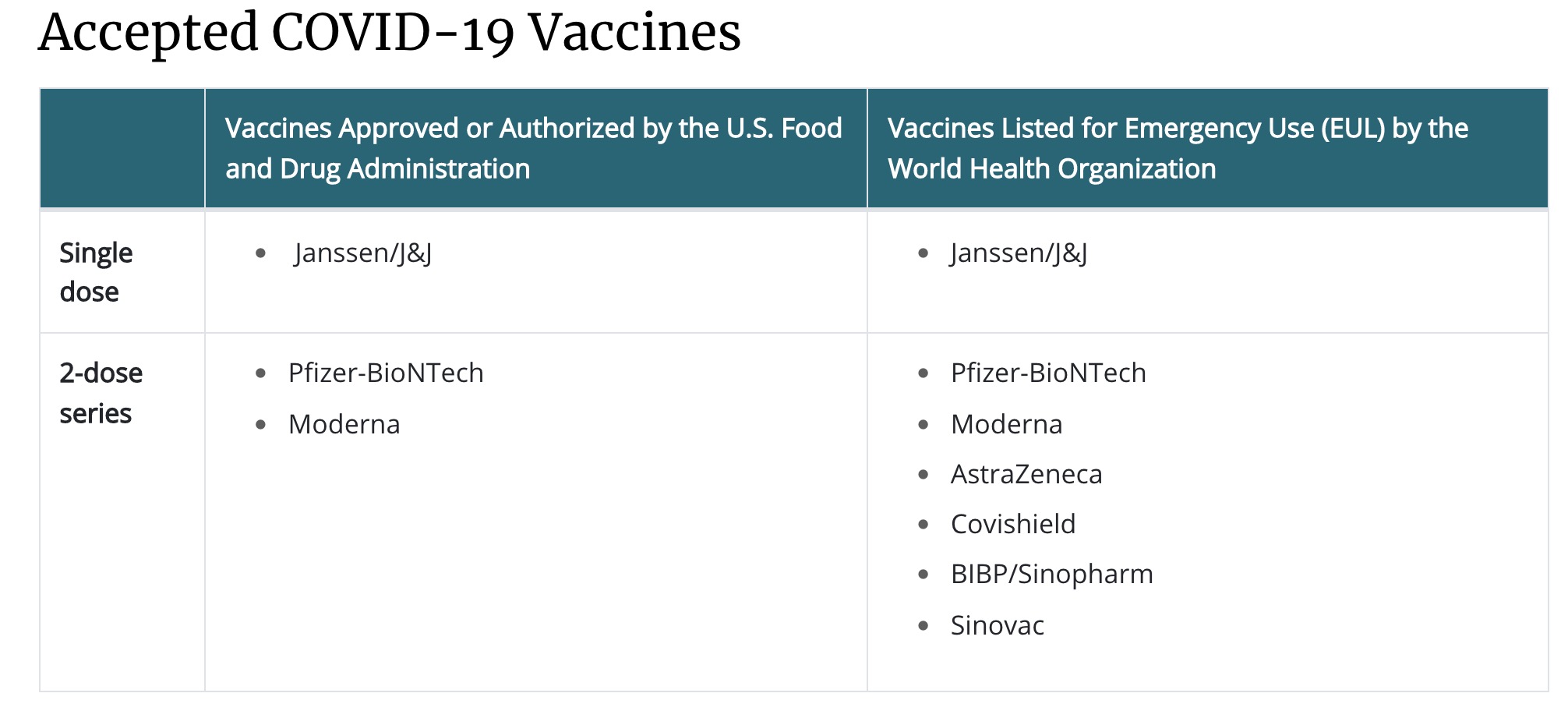 No partial vaccination is allowed, you must have followed all vaccination requirements.
Antibody & Previous Covid-19 recoveries do not excuse travelers from the vaccination requirement.
This is how you will show proof of vaccination. Please make sure your documents are also available in English can be paper or digital and must be issued by an official source and include the traveler's name – date of birth – the vaccine product & date(s) of administration for all doses received.
1. The QR code in a verifiable vaccination record links to information confirming the credential was generated from an immunization record in an official database and is protected from tampering.
2. Website:
Center for Disease Control
Negative Test (UPDATE DECEMBER 3rd FULL-TEXT)
DEPARTURE FLIGHT - TRAVELING TO THE US

Anybody above age 2 must provide a negative Covid-19 test administered
within 72 hrs
NOW WITHIN 1-DAY
before the flight departure to the United States.(It means if your flight is at 11 am on a Wednesday your negative test was taken any time on the prior Tuesday)
If you test positive before your flight -
YOU WILL NOT BE ALLOWED ON THE FLIGHT REGARDLESS OF YOUR VACCINATION STATUS.
RETURN FLIGHT - TRAVELING BACK TO YOUR COUNTRY

Most countries require a negative test to board the plane home.
These are some examples,
Italy -
For Italian Ciitzens/Residents returning from the United States, you must have negative molecular or antigen swab test administered in the 72 hours prior to entering Italy + fill out the European Digital Passenger Locator Form (dPLF) here –
https://app.euplf.eu/#/

Spain -
For you must complete a Health Control Form (HCF), which can be completed via the Spain Travel Health website or app. It will generate a QR code which must be shown on arrival in the country.
France
- If you are vaccinated, you can travel to France with no restrictions. Unvaccinated children aged 12 and older. All travelers will also be required to complete a sworn declaration, which you can download from the French Interior Ministry's website.
Portugal
- All visitors entering Portugal are required to provide a negative test result, both PCR (performed within 72 hrs) or rapid antigen test (performed within 24 hours) are accepted.
The Uk
- Fully vaccinated passengers traveling to the UK no longer have to take a Covid test before setting off. However, you will have to complete a Passenger Locator Form before arriving in the UK and take a lateral flow test two days after arrival.
If you test positive -
YOU WILL NOT BE ALLOWED ON THE FLIGHT REGARDLESS OF VACCINATION STATUS EVEN IF YOU ARE GOING HOME!
Please note
that since these are sovreign nations/international governements, we cannot verify the vericity of the information and
we highly encourage you to double check with your own country for the latest restictions and rules before flying back home.
Make sure to check your official government travel advisories to find all requirements. Additionally, when in doubt, it is recommened to have a recent negative Covid Test handy just in case. Generally speaking PCR test results are accpeted if performed in the last 72 hours, and Antigen if performed in the last 24 hours.
Where to Get a Covid Test in NYC for Visitors?
The Good News
- Plenty of places to get your test throughout the 5 boroughs.
The Bad News
- It may cost you a lot ... anywhere from $175 to $250 & up.
Covid-19 Tests are free, or almost free, for residents and Americans using their medical insurances. However, International Visitors do not have local health insurance and they might be responsible for the full price of the test if they go to certain clinics that take appointments.
Selected Free Testing Sites are located throughout the city and do offfer free testing to all regardless of country of origin and insurance status.
Here is a list of places to
get tested while in NYC –

Pharmacies such as
: CVS - Walgreens - Duane Reade.
You can find free
mobile testing
all over the city like
LabQ
NEED HELP?
We are offering a new service for our guests, the assistance of one of our guides to help you not only make an appointment, but also take you to your testing facility and help you filling out the forms for the test and then back to your hotel. If you don't speak the language or are afraid to navigate the local requirements, this will be an easy and efficient way to make sure you take care of all requirements before your flight back home.
Book your service here.
What happens when you test positive while traveling in the US?
Well let's say it, this is the worst thing that could happen to you while traveling internationally (whether in the US or elsewhere) …
The simple answer — you cannot travel and you might be on your own!
Let us explain better the scenarios you will possibly face. Countries like Spain and Greece, for example, offer Quarantine Hotels to visitors (
yes!, even International visitors
) who find themselves in this pickle …. free of charge! They even feed you while in quarantine. This means at least you won't have to pay for the hotel room/apartment and the extra meals.
HOWEVER, here in the US is still unclear if the individual cities such as New York City, or the federal gov will do something similar to international travelers in the United States after November 8th. I'm afraid that for now, we should presume that the traveler will assume all financial responsibilities and costs for the quarantine hotel room, at least 10 to 14 days, food, extra covid testing, medical needs, and anything else she/he may need during this forced-extended stay.
Rescheduling your flight might be the easiest thing, as many airline companies have changed their policies to facilitate the rescheduling of a flight due to illness especially COVID as they are legally forced to deny you boarding …. However, we highly recommend checking each airline's restrictions and rules before booking your international flight. At the very least you should make sure that you won't have to pay a penalty to rebook your ticket if you test positive while traveling.
Covid-19 Evacuation Insurance
Something that has become increasingly popular as international travels have resumes … By no means this is a cheap option, but it will be cheaper than paying for a forced extended stay in NYC on your own.
Like other travel insurances, the cost depends on the number of passengers included in the policy and the length of stay.
Open to all nationalities.
If you test positive, they will fly you home right away and you
WILL NOT HAVE TO QUARANTINE AND WAIT TO GET A NEGATIVE TEST TO RETURN HOME.

Is it worth it? Like all insurance, it's a gamble …. Money well spent if you end up using or a complete waste of you don't, however, it's 100% peace of mind.
We will soon start offering the Covid-19 Evacuation Assurance to our guests - Coming Soon.