What are the American Cities worth visiting from New York City?
The most visited are
Washington DC
,
Boston
and
Philadelphia
, all easily reachable by bus or train. Distances are "relative" in the United States, everything seems near, and at the same time, far away.
During the summer season destinations like Canada with Toronto and the 1000 Islands, the Niagara Falls and the Hamptons with Sag Harbor are also Must-Visit places loved by thousands of people. Here are some bus routes departing from New York:
SEE THE ITINERARIES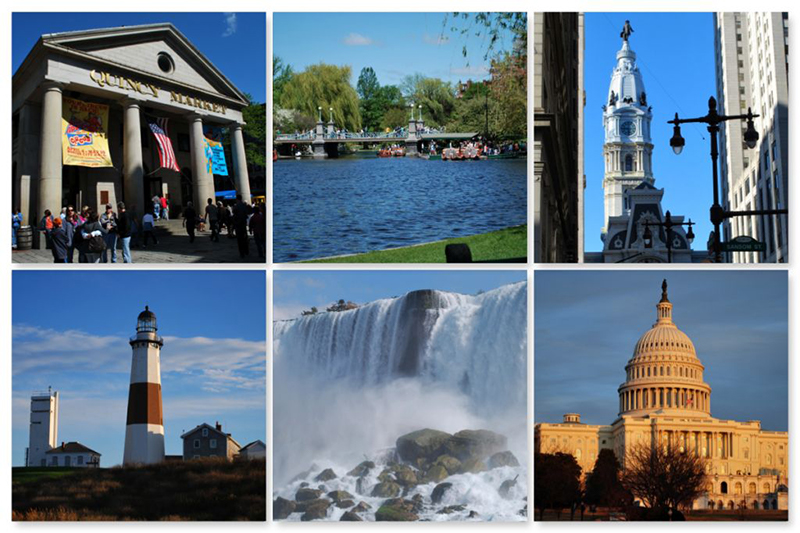 VISIT WASHINGTON DC FROM NEW YORK
At a distance of "only", so to speak, 226 miles (363km) we have the farthest city of the three and probably the most visited one as well --
Washington DC capital of the United States
. The importance of Washington is certainly linked to the presence of the President of the United States in the White House and the site of the US Federal Government, aka
Capitol Hill
, along with all the
historic Memorials
dedicated to former Presidents and all of those who fought in Wars during the last 2 centuries.
Arlington Cemetery
and the lively
Georgetown
neighborhood are also not to be missed to get a comprehensive tour of the city.
Let's see how we can plan our stay in NYC to have one or more days available to visit the capital from New York City and choosing between train and bus. The train can be more expensive however knowing how to choose the cheapest and most convenient fare ahead of time is certainly the least stressful way to reach the capital, especially if done as a 1-day gateway.
All trains leave from Penn Station
(34th Street & 8th Ave.) Trip duration and cost vary from the choice of the train and the time of departure, the morning trains, the best choice so you will have the entire day available to explore DC with a return ride planned for the same evening are clearly the most expensive. The fast trains (Acela Express - trip duration 2:58 h) can cost you from $ 150 to $ 400 round-trip depending on the dates/hours selected and sometimes even more, but there are also the Regional Trains (Northeast Regional - trip duration 3:30h) from $80 to $ 300 round-trip also depending on the time/date.
---
Washington DC by Train with your Tour Guide
It is one of the best solutions for those who want to
personalize their visit to Washington DC
. The guide will meet you at your hotel and stay with you for the duration of the tour. Together with her, you will decide the program and itinerary for the day, what to visit, routes and attractions. Plus, no delay due to traffic! Return to New York in the evening. For more information and quote: Email me!