Vaccinated New Yorkers can go without a Mask
Starting May 19th
, restaurants, museums, theaters, and retail outlets are back in full swing. For those who have had the second dose of the vaccine, and waited the full 2 weeks, it is
possible to go out without a mask.
This new rule applies not only outdoors but indoors as well. Governor Cuomo's announcement came shortly after the Centers for Disease Control & Prevention released the new guidelines at the federal level. Technically these new
rules apply only to vaccinated people
but it is unclear how the vaccination status will be checked and on whom will fall the burden of controlling and implementing such rules. At the moment it does not seem to be a burden on companies, which will, in any case, be free to establish their own policies regarding face covering and vaccine requirements. Will the VaccinePASS or a document certifying vaccination be required? We'll find out soon!
However,
masks are still required in schools, public transit
(the Subway has resumed service 24/7), and
health-provider offices and facilities
. And be ready to still see many private companies, offices, stores, etc. requiring masks while indoor. Again for
companies
, t
hey can decide the rules to apply to their guest.
NEW Video: 10 Things not to miss around Downtown NYC
Finally, we are back talking about traveling. Many of you have asked me when you can come to NY or the US for tourism (international visitors.) At the moment, there is
still no certain date for when the US borders will re-open to all Foreign Visitors.
But considering the progress made recently, it will be SOON. In the meantime, if you are from one of those countries that are subject to the presidential declaration (i.e. all European counties) and cannot travel, here is
the first Video on "Exploring New York"
- Follow me to
Downtown Manhattan
to find out what are
the 10 things not to be missed,
a quick roundup to introduce you or take you back to the oldest area of ​​New York: Lower Manhattan with the FiDi and WTC.
New Rooftops ready to Welcome Us
These Summer Temperatures are taking us outside. The desire to be outdoors with friends after a year of closures and separation is leading us to
our beloved Rooftops around New York
. For a cocktail with friends or an after-dinner drink, to enjoy the sunset, or for a romantic dinner. Rooftop restaurants are the most popular during the summer season,
some tips you can find
in our article
"Happy Hour Makes you happy!"
While here you will find
the latest openings (2020-2021),
the brand new New York Rooftops that you can experience on your next trip:
The Newcomers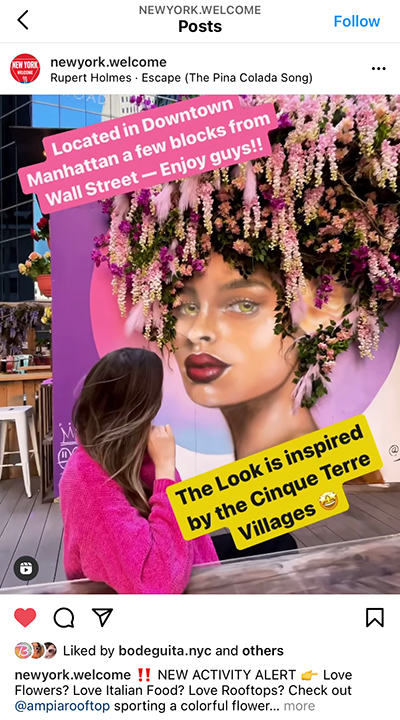 Rooftops in Manhattan
I remind you that (for most Rooftops) you must be 21+ to enter- Irene T. - NYC Tour Guide
Exhibitions scheduled at MoMA:
Alexander Calder: Modern from the Start - Until August 7th
Fotoclubismo: Brazilian Modernist Photography, 1946–1964 until September 26th
Degree Zero: Drawing at Midcentury - until June 6th