Who said that New York City isn't coming back? Slowly and always putting people's safety and health first, major museums and landmarks are reopening around the Big Apple. Yes, it's true, there will be "health screening" at the door, reduced capacity, extended health measures including mandatory masks, etc. .... but at least we are getting some things back. And as New Yorkers, we do love our arts and museums!
Here a summary of what's to come:
MUSEUMS in NY
The Metropolitan Museum (The Met)
It is reopening to the public on August 29 with special pre-opening reserved exclusively to members on August 27 and 28. Also, the sister museum The Met Cloisters will reopen on September 12. You must buy a timed-ticket in advance on their site. Remember that residents of NY, NJ, and CT can pay as they wish in that case bring your VALID ID with you. An opportunity to go up to
the Rooftop of the Metropolitan
and admire not only the beautiful view over Central Park but the new
installation by Mexican artist Hector Zamora -- "The Wall"
. A Wall made of Mexican and South American bricks. Definitely symbolic right now.The museum is enforcing few basic rules including temperature check at the door, mandatory masks, social distancing (6 feet), reduced capacity, reduced beverages/food items options.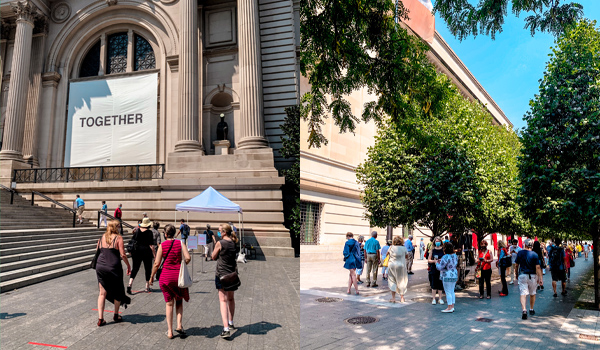 The MoMa Museum
- It is now open from 10:30 am to 5:30 pm every day Mondays are served for members only. For all other visitors, you will need a timed ticket to enter. Tickets are released one a weekly basis every Friday at 10:00 am on the Museum official website. The good news is that the Museum is FREE until September 27 thanks to the sponsorship by UNIQLO. Tickets for Aug 27–Sep 3 are currently sold out, make sure you book your admission in advance! Very limited capacity, masks required, keep 6 feet away, wash your hands frequently, follow the signs.
The Whitney Museum
It is also reopening soon -- September 3. The Museum will be offering a "Pay What You Wish" for the first few weeks until September 28. You do need to book a timed-entry admission online on their website. Make sure to book in advance as space is limited due to reduced capacity. Always wear your mask, keep 6 ft away from other patrons, follow the guidelines, wash your hands frequently.
The Museum of Natural History
It is reopening on September 9 from 10 am to 4 pm. If you are a member, you will have priority admission starting September 2. You will need to book and pay your timed ticket online on their website. Make sure to book in advance as capacity is reduced. If you are a resident of NY, NJ, and CT residents (with ID) you can still pay "As You Wish." Make sure to book online for a timed-entry and you will pay your donation upon arrival at a Museum ticket counter.
The Guggenheim Museum
It will reopen on October 3 to the general public. Members and patrons will have exclusive access from September 30 to October 2. You will need to book your timed-admission ticket online. More information to be released soon, we encourage you to check the Museum's website for the latest updates.
General Common Precautions
1.You will need to undergo the Health Screening at the door - they take your temperature.
2.Anyone that is over the age of 2 MUST wear a Mask at all times.
3.Patrons are urged to wash their hands frequently or use Hand Sanitizer.
4.Bear in mind the Social Distancing rules. Try to keep at least 6 feet between you and others at all times.
5.There will be signs posted throughout the Museums with the rules in place.
6.Certain Museums might also use signs and barriers to guide you through the exhibition so they can manage the flow better. Please follow those signs.
7.Capacity is extremely limited.
8.Checkroom/Coatcheck are closed - do not bring oversize bags.
9.Make reservations in advance on each Museum's website - if you are a member, you might have exclusive opening days and priority admission.
10.ALWAYS FOLLOW THE RULES FOR EVERYONE'S SAFETY AND HEALTH.