is coming to New York City, as always for this occasion the city will close almost 11 km (7 miles) of roads in Manhattan along Park Avenue starting from the Brooklyn Bridge all the way to Central Park (72nd Street.)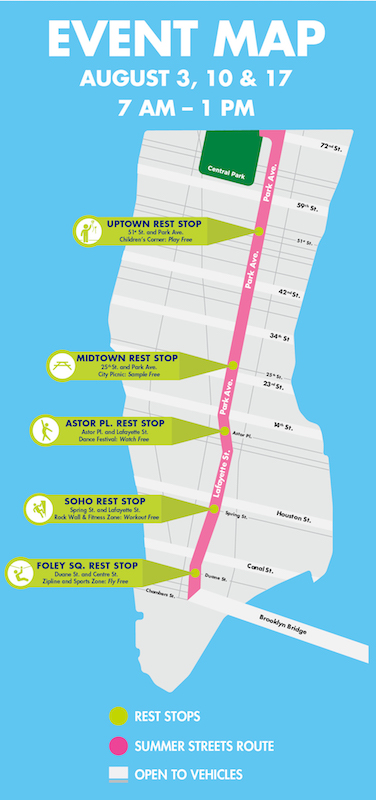 Click here
for a
Full-Size Map and Details
This is the time when you can enjoy long walks (or bike rides) without traffic and fully enjoy all that the city has to offer!
The route will be occupied by kiosks, cyclists and pedestrians. Many events and for everyone the opportunity to practice different sports and yoga, or simply to participate in a dance party.
The activities are all available for free but some may require pre-registration. You can register on the official NYC Summer Streets Website (link above.)
Last year,
over 300,000 people took part in the Summer Streets
, people who decided to dedicate themselves to healthy recreational activities while using a different form of transport to cross Manhattan!
If you are passionate about photography, you can take the rare opportunity to capture the city streets right from the center of the streets without worrying about incoming traffic. Especially the area around Grand Central Terminal is perfect if you want to capture the old station from different perspectives.
On August 3, an attempt will be made to beat the Guinness World Record (under the guidance of yogi Lara Heimann.) For the greatest number of people performing a vertical at the same time. (The record is currently set at 399.)
Summer Streets will take place on the first three Saturdays of August from 7:00 am to 1:00 pm
We are waiting for you in New York!