THE FEAST - HISTORY & TRADITION
Possibly one of the best time to visit Little Italy, the Feast of San Gennaro is back in Little Italy from September 12th to the 22nd for 11 straight days. This year marks the 93rd edition of the popular Feast in the historic neighborhood of Little Italy, Manhattan. When it first started in 1926, the Feast lasted only 1 day. The commemoration started with the arrival of Neapolitan Immigrants at the turn of the century and the celebration of the Patron of Naples -- San Gennaro. Throughout the years, the Feast grew to become one of the most important celebrations of Italian-American culture in New York City. Today, the Feast lasts 11 days and it's possibly the best time to visit and re-live a neighborhood that for many has otherwise lost its tradition and authenticity becoming ever smaller and engulfed by the neighboring Chinatown.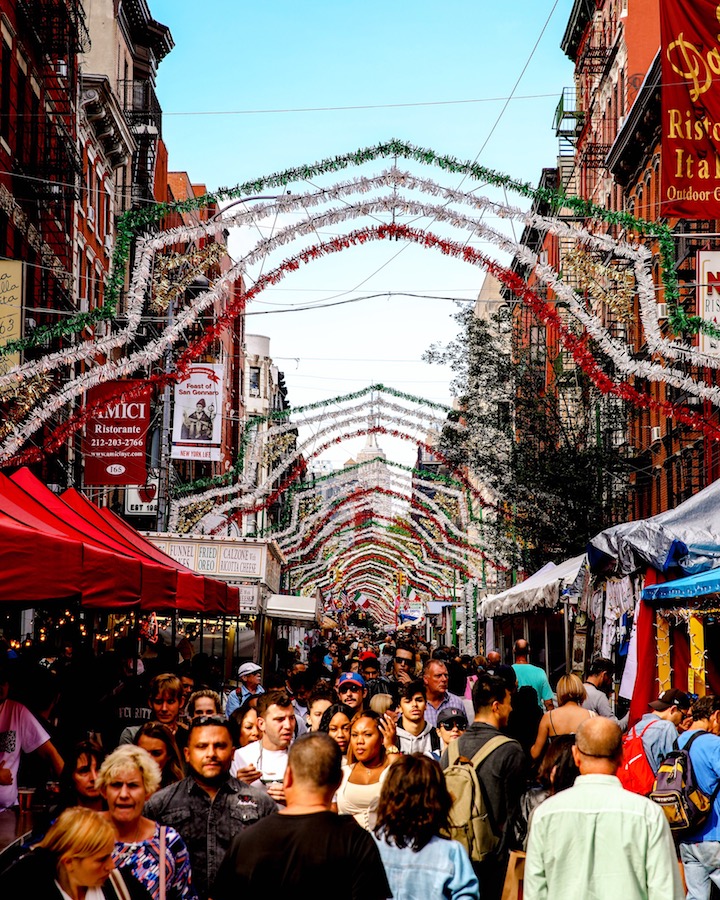 WHAT TO DO DURING THE FEAST
Possibly the best perk of the Feast is that the entire area of Little Italy becomes pedestrians-only, and every inch along the sidewalks is filled with Food Carts. You can walk all along Mulberry Street and Mott Street from Canal to East Houston while trying many delicious delicacies from Cannoli to Meatballs, Italian Sausages Panini, Zeppoles and Fried Oreos, and much more.
Of course, there will be many activities and events during the almost 2-week long Feast including the much-awaited 22nd annual Cannoli Eating Competition, the 4th Annual Meatball Eating Competition and the brand-new Zeppole Eating Competition!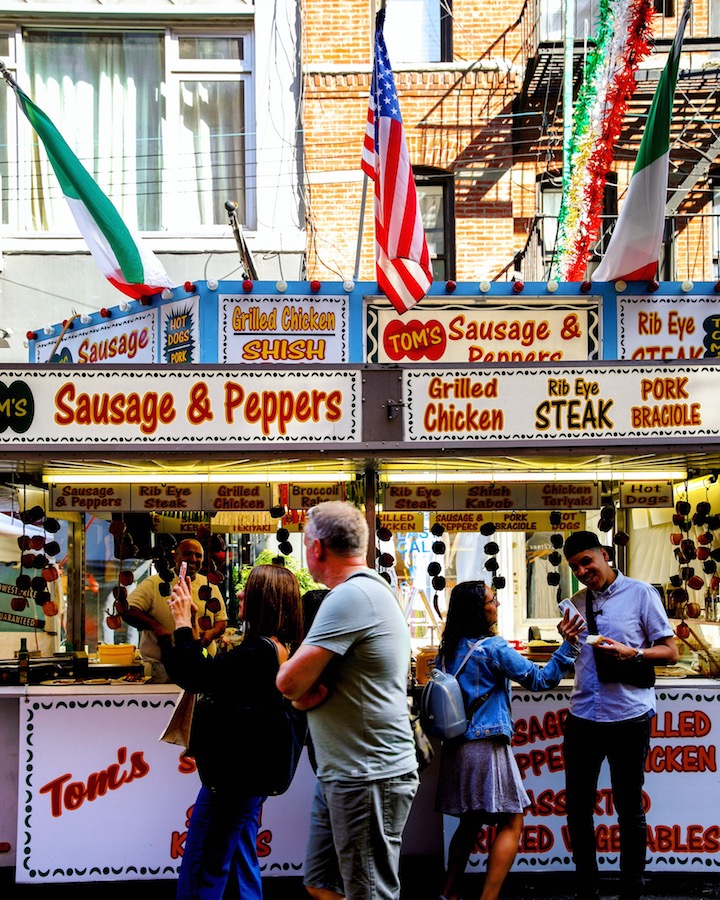 HOW TO GET THERE - TRANSPORTATION & PARKING
If you are planning to attend the Feast, we recommend using public transportation. The easiest way to get there is to use the Subway Green Line (6) or Yellow Line (Q, R, W, N) to Canal Street and then walk around.
Please note that the entire area around Little Italy is shut-down to traffic including the entire section of Mulberry and Mott Street from Canal Street to East Houston Street, as well the intersection of Grand Street and Kenmare Street. Parking is already limited in the area, and with the additional shut-downs and street closures, it's highly recommended to use an alternate method of transportation and avoid cars at all costs!
2019 ACTIVITIES & EVENTS
Thursday, September 12th at 6:00 pm -- The Blessing of the Stands
Friday, September 13th at 2:00 pm -- The 22nd Annual Cannoli Eating Competition
Saturday, September 14th starting at 2:00 pm -- The Grand Procession
Monday, September 16th at 7:00 pm -- 16th Annual Enrico Caruso Opera Night
Wednesday, September 18th at 1:00 pm -- The 1st Annual Zeppole Eating Competition
Thursday, September 19th at 6:00 pm -- The Solemn High Mass Celebrating San Gennaro, the Patron of Saint Naples
Saturday, September 21st at 1:00 pm -- The 5th Annual Meatball Eating Competition
Saturday, September 21st at 2:00 pm -- The Little Italy Vocal Competition
Sunday, September 22nd from 11:30 am to 6:30 pm -- The Annual Feast of San Gennaro Blood Drive
Sunday, September 22nd at 2:00 pm -- The Neapolitan Concert