Williamsburg and The Creativity!
NOTES:
Water Taxi tickets are not included in the price. Cost for each ride is $2.75. During the tour, we will take 3 rides for a total of $8.25 – If you want to go back to Manhattan by water taxi, you will need an additional ticket for $2.75.
If you are passionate about photos and videos you will have unique opportunities to capture the skyline at sunset immortalizing the views of the three bridges of the East River: Brooklyn, Manhattan, Williamsburg (aka BMW) and everything your guide will bring to your attention.
Dumbo
Let's start by saying that Dumbo has nothing to do with the young Disney elephant but is an acronym for Down Under the Manhattan Bridge Overpass. Until a few decades ago, it was a completely abandoned neighborhood (a former manufacturing district) where only a few artists had decided to establish their lofty studios and where 30 years ago Sergio Leone filmed one of the most beautiful scenes of the movie Once upon a time in America. Now, Dumbo has changed and we're going to see how; we can reach Dumbo in many ways but the most glamorous way to get there is with the East River Water Taxi leaving from Pier 11 in Downtown Manhattan (Wall Street) - The ride lasts only five minutes ..... the view is incredible and will live forever in your camera!
What we will see while crossing the East River & touring Dumbo:
Up-close views of the Brooklyn Bridge – We dock right by the Bridge
The Manhattan Bridge
Jane's Carousel
Washington Street
Over the past 15 years, Williamsburg has been rapidly transformed and continues to do so day by day to be a dynamic scene, even though Starbucks has landed here too, the area remains the District for the "Do It Yourself" and creative people. Small pastry shops and cafes to meet with friends, a multitude of restaurants to offer different cuisines, trendy shops for glamorous fashion, and art galleries for local artists. Places to go listen to some good music, and then small & big street markets .... Get informed with your guide to the latest Williamsburg's trendy places.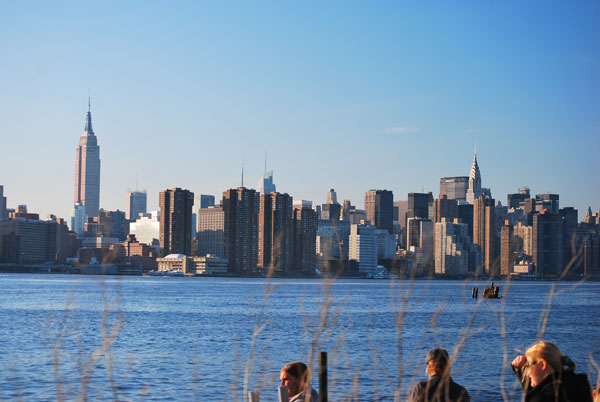 Long Island City: Sunsets & Pepsi-Cola Sign
If once Long Island City (LIC) was above all a movie production center, it now houses one of the city's most vibrant art-scenes. The 19th-century industrial buildings have been transformed into galleries, museums, and painters and artists' studios, and restaurants are growing more and more in number alongside shops and boutiques. Also, a great choice for Hotels, LIC, has opened many hotels in recent years, and we remind you that it is only 1 train stop, line 7, from Grand Central Terminal and easily accessible by Water Taxi too. Last but not least, you have some of the best views over the Manhattan skyline and the famous Pepsi-Cola symbol.