GET YOUR

front-row seat
The long-awaited return of the dazzling
Macy's 4th of July Fireworks
is here, captivating both locals and visitors alike. If you're curious about how to watch this dynamic display, keep reading.
Marking an annual tradition since 1976, Macy's 4th of July Fireworks is a cornerstone of New York City's Independence Day festivities. The awe-inspiring show represents one of the highlights of July 4th in New York and the States.
So when does this radiant show light up the night sky?

The Macy's 4th of July Fireworks will ignite the evening on Tuesday, July 4, with the first sparks flying at
9:25 pm.
But where exactly should you set your gaze?

The fireworks will soar from the East River, the 5 barges are located between E. 26th and E. 40th Streets in Midtown Manhattan.
What can you expect from this year's show?

A staggering 60,000 shells, or 2,400 per minute, will burst from five separate barges positioned along the East River. Macy's fireworks spectacular lasts 25 minutes, unleashing a rainbow of 30 vibrant colors and shapes. This year introduces fresh
visual effects
: a mile-wide American flag rendered by red, white, and blue shells, a sunflower ring, stop sign-red bursts, and ghost pyro, magically shifting from one hue to another.
According to a recent press release, Macy's promises "t
he most dynamic collection of animated shells ever launched during Macy's annual spectacle.
" The dazzling display will stretch an entire mile across the East River, reaching skyscraping heights of
up to 1,000 feet
.
Who provides the soundtrack to this visual symphony?

A star-studded lineup pays tribute to American music legends through
synchronized melodies
. Expect to hear patriotic favorites such as "
The Star-Spangled Banner,
" "
America the Beautiful,
" and "
Lift Every Voice and Sing.
" Also included are iconic hits like "
Ain't No Mountain High Enough
" and a special performance of an original piece, "
Sea to Shining Sea,
" composed and performed by The United States Army Field Band's rap duo, Nico & Lamar with Ray Chew. This auditory feast, curated by acclaimed musical director Ray Chew, is a highlight of the night. In sync with Tina Turner's "
The Best,
" thousands of golden shells will cascade across the East River. The soundtrack will be available on
1010Wins
as the show begins.
Wondering where to enjoy Macy's 4th of July Fireworks?

Macy's has unveiled a list of prime viewing locations on the Brooklyn, Manhattan, and Queens waterfronts, including:
Manhattan
– 1st Avenue and East 42nd Street, 1st Avenue and East 34th Street, and 1st Avenue and East 20th Street. For
Queens
spectators, Gantry Plaza State Park is your go-to spot. In
Brooklyn
, optimal viewing locations include Newtown Barge Park, Transmitter Park, and Marsha P. Johnson State Park.
For a guaranteed memorable experience, find a spot with a clear view of the Midtown skyline above the East River. If you prefer to enjoy the show from the comfort of your own home, tune into NBC's national broadcast of Macy's 4th of July Fireworks between 8-10 p.m. Eastern Time.
The best way to see Macy's 4th of July Fireworks

If you rather avoid the large crowds and guarantee yourself a prime front-row seat to the Macy's 4th of July Fireworks, we highly recommend splurging on a
boat cruise
. Not only you will have some of the best-
unobstructed views
of the pyrotechnic display, but you will also enjoy prime views over the skyline as you sail down the Hudson River, around the tip of Manhattan, and up the East River to reach the perfect spot.
Additionally, you will have access to
unlimited soft drinks + wine & beers
(other cocktails available to purchase), and some nibbles and staples such as Burgers, Hot Dogs & more!
There you have it, the complete guide on how to watch the Macy's Fireworks in NYC. Whether you're a seasoned New Yorker or visiting the city for the first time, this is a July 4th in New York event you won't want to miss!
HAPPY BIRTHDAY AMERICA!
WHERE: NYC, EAST RIVER BETWEEN E 26TH AND E 42ND STREET
WHEN: 9:25 PM
JULY 4TH MACY'S FIREWORKS - PHOTO GALLERY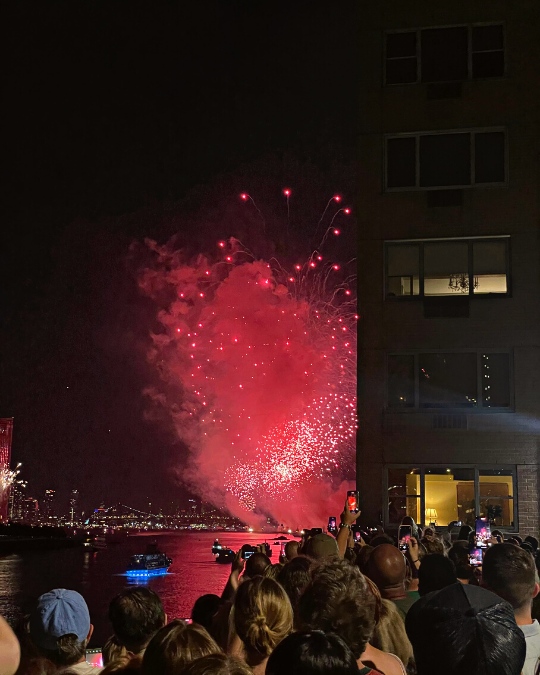 ---
TOP-3 ACTIVITIES TO DO RIGHT NOW IN NYC
NEED HELP? LET US HELP YOU EXPERIENCE NYC YOUR WAY WITH OUR EXCLUSIVES™