The Guide will tell you anecdotes and secrets of this incredible metropolis; you will be able to photograph and take videos of the historic buildings of Midtown-Manhattan. It will be a walk between the old and the new while getting some good advice from someone that lives here including where to eat well without breaking your bank, what are the venues to go-to for good music and much more ...
Tudor City and the Glass Palace
We start our walk in Midtown East between First and Second Avenue to discover the Neo-Gothic neighborhood of Tudor City where the first residential skyscraper was erected in 1932. North of Tudor City, right where the United Nations Building was built in 1950, we have Turtle Bay a former small East River Bay that later became a slaughterhouse district before becoming one of the most coveted residential neighborhoods of all NYC!
Grand Central Terminal and its Secrets
To find the famous train station, Grand Central Terminal, we keep walking on 42nd Street to the corner with Lexington Avenue. Here, we are still in Midtown East. The Terminal is the largest station in the world with 44 platforms and 67 active tracks. Famous for restaurants, shops, and the food market, it's the center of many interesting secrets to discover along with your guide.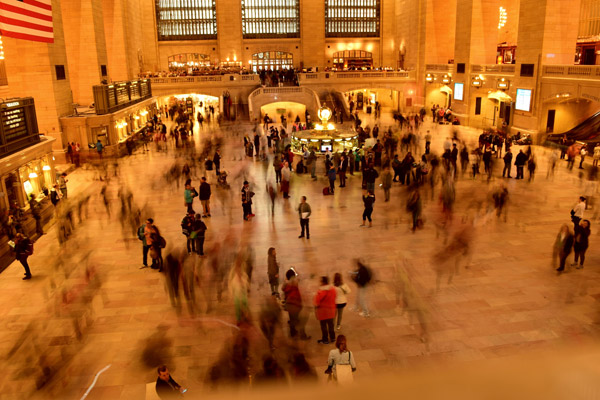 Grand Central Terminal
New York Public Library and Bryant Park
The New York Public Library system has 87 locations throughout New York and is the second largest US library system, the first being the Library of Congress in Washington DC. The main, and historic building is on Fifth Avenue between 42nd and 40th Street. It is truly impressive with its marble entrance and expansive interiors, definitely worth a visit & the entrance is free.
Behind the library, we find one of the most visited parks by both New Yorkers and tourists: Bryant Park hosting seasonal markets, Holidays events, concerts, and other annual events such as the ice skating rink in winter and the summer open-air movie theater. A perfect stop for anybody that wants to take a break, drink a coffee, or have a quick lunch.
Walking a few block west, we come to Times Square, the theaters, the shows, the stores, the crossroad of the world .... but how many secrets this square has!!!