EVENTS & SHIP TOURS -

Fleet Week

IN THE CITY
With today's
Parade of Ships
, Fleet Week is back in the city. Earlier this morning three U.S. Navy ships, two U.S. Coast Guard vessels, and four U.S. Naval Academy (USNA) Yard Patrol boats (YPs) entered the New York Bay waters, along with three NATO allies ships from Canada, Italy, and the United Kingdom formally opening what is known as
Fleet Week in NYC
.
FLEET WEEK - A BRIEF BACKGROUND
Now in its
41st edition
, Fleet Week in New York City is a
time-honored tradition
that dates back to 1982. This week-long event, usually held in late May, celebrates the United States Navy, Coast Guard, and Marine Corps with a series of festivities that both locals and tourists can enjoy.
Every year, Fleet Week kicks off with the Parade of Ships, a spectacular sight as military ships sail up the Hudson River, passing under the majestic Verrazzano-Narrows Bridge to reach the Geroge Washington Bridge. This procession is a chance for New Yorkers and visitors alike to see these incredible vessels up close and honor the service of those who serve on them. The parade took place earlier this morning from 7:45 am to 11 am.
WHERE:
THE NEW YORK BAY - ALONG THE HUDSON RIVER
FLEET WEEK 2023 - SPECIAL EVENTS & SHIP TOURS
Over the course of the week, many of the
city's museums and cultural institutions
offer special programming related to maritime history and the armed forces. The
Intrepid Sea, Air & Space Museum
, located aboard the historic aircraft carrier Intrepid, is a must-visit. It hosts a variety of events and exhibits, many of which are free to the public during Fleet Week.
Perhaps the most exciting part of Fleet Week for many is the
ship tours
. Several military ships dock at locations around the city and open their decks to visitors. These tours provide an unprecedented opportunity to
explore the inner workings of these vessels
and meet the men and women who serve on them. Whether it's a destroyer, an aircraft carrier, or a cutter, these ship tours offer insights into modern maritime technology and military life.
FLEET WEEK 2023 - WHERE & WHEN CAN I TOUR THE SHIPS?
From May 24th, you can tour the following ships all week long at the following locations:
Manhattan, Intrepid Sea, Air and Space Museum, Pier 86:
— Four U.S. Naval Academy YPs, Annapolis, Maryland
— Fast response cutter USCGC Warren Deyampert (WPC-1151) from Boston, Massachusetts
Manhattan, Pier 88 South:
— Amphibious assault ship, USS WASP (LHD-1) from Norfolk, Virginia
Note: Closed on Sunday.

Manhattan, Pier 88 North:
— Ocean survey vessel HMS Scott (H131) from Plymouth, United Kingdom
Note: Closed on Sunday.

Manhattan, Pier 90 North
:
— HMCS Glace Bay (MM 701) from Nova Scotia, Canada
— ITS Virginio Fasan (F 591) from La Spezia, Italy
Homeport Pier, Staten Island:
— The Harpers Ferry-class dock landing ship USS Oak Hill (LSD-51) from Norfolk, Virginia
— Spearhead class fast transport USNS Newport (T-EPF 12) from Norfolk Virginia
— Medium Endurance cutter USCGC Legare (WMEC-912) from Portsmouth, Virginia
Usually, ships are open from 8-5am daily, except for tours on the Intrepid which run from 10am-5pm daily.
FLEET WEEK - WHAT TO EXPECT
Several events including
concerts
by both military bands and civilian artists, performed at parks and public spaces are expected throughout the week. There are also special
events at bars and restaurants
throughout the city, many offering discounts and deals to service members.
Fleet Week in New York City is more than just a celebration of the military; it's an opportunity for civilians to gain a deeper understanding and appreciation for the armed forces. Whether you're a lifelong New Yorker or a first-time visitor, Fleet Week is an unforgettable experience that should be on everyone's NYC itinerary.
FLEET WEEK NYC - PHOTO GALLERY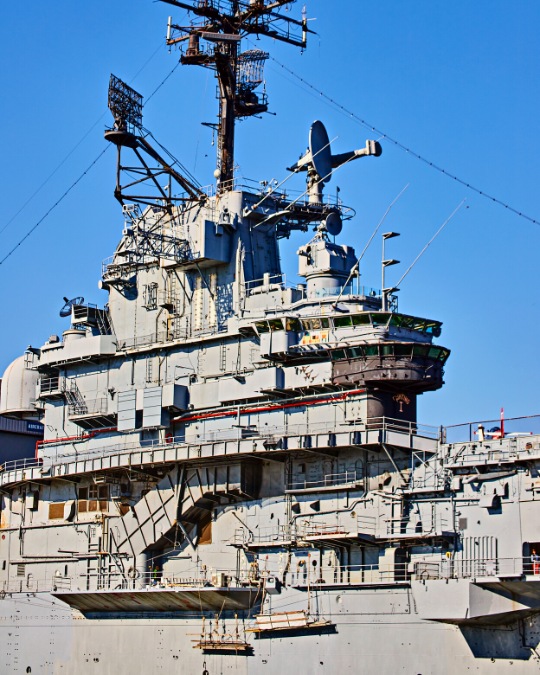 ---
NYC FLEET WEEK - TOP ACTIVITIES
THINGS YOU CAN DO DURING NYC FLEET WEEK