Tomorrow is Earth Day
- the day in which we celebrate worldwide the environment & the protection of our beautiful planet. Today,
Earth Day's Eve - National Geographic - We Celebrate Virtually
April 22nd is the day we talk about individual
responsibility, sustainable consumption
, and how to avoid excessive waste. This year's theme is
Restore Our Earth
- repairing Earth from damage already done, how to protect it moving forward, and the use of green technology. We can (
and must
) all do better!
How to celebrate Earth Day in New York:
April 22nd: Volunteers meet to restore woodland and salt marsh habitats on Randall Island.
April 22nd: You can join a walking tour in Green-Wood Cemetery (free, just sign up) to discover its ecosystems.
April 22nd: The American Museum of Natural History hosts EarthFest Online, a one-day family event that includes science talks and a dance party.
April 2021 Updates
Since April 19th,
bars and restaurants have been open until midnight.
From April 26th,
Museums and Zoos can accommodate patrons up to 50% capacity, cinemas up to 33%, and from May 19th, the large indoor arenas will increase the maximum capacity to 25%.
May is coming: Events & Openings
On May 1st,
Museum of the Moving Image
is reopening in Astoria.
The museum is located on the campus of the historic Kaufman Astoria Studios, the studio founded in 1920 was also known as Paramount's film and media production facility.
The campus is also home to the cutting-edge
Frank Sinatra High School for the Performing Arts
, founded by Astoria native Tony Bennett.
Opportunity to explore the
neighborhoods of Astoria and Long Island
also known for the quality and diversity of culinary options and the presence of several museums including
MoMA PS1
, The Noguchi Museum, Socrates Sculpture Park & Center.
One of our Walking Tour itineraries takes you to visit the
Visit the East Side with Dumbo and Long Island City.


Japan Day is celebrated from May 1st to the 9th
. Also this year you will have to settle for virtual events, but you can always go to the Bandshell and Rumsey Playfield in Central Park and hope for some live musical entertainment.
Also on May 1st, Governor Island reopens
take your bike and get on the ferry and meet the 5 new employees: Flour, Sam, Evening, Chad, and Philip Aries, a family of 5 sheep who will spend the next four or five months on Governors Island, helping to control invasive plant species in the beautiful Hammock Grove by eating them! Get ready in time to take part in
NYC Runs Summer Loving 5K & 10K

From May 2nd to the 26th, "Give. Love. Bloom."
for the traditional
Macy's Flower Show!
Last year the exhibition was canceled but this year we are all ready to come back and walk amongst the flowers on display at Macy's in Herald Square.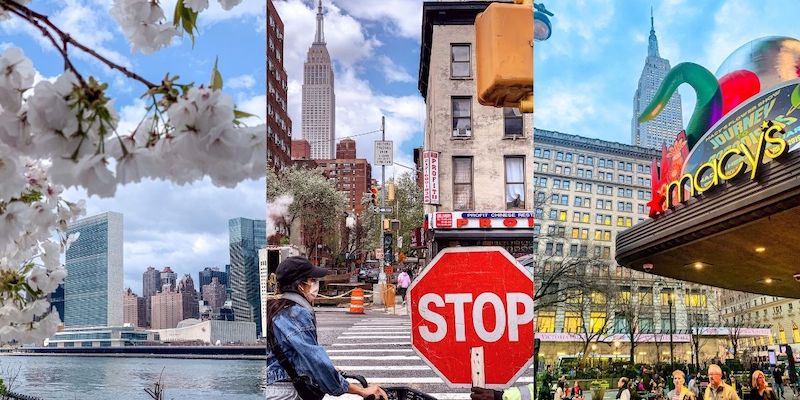 Lincoln Center is restarting with Restart Stages
and with the creation of 10 spaces for outdoor performances & rehearsals which will help the arts and entertainment industry and kick off the "rebirth" of New York City. The events will be free or low-cost: concerts, cabaret, ballet, and film screenings.
There will also be civic and community service events, the ability to donate blood in partnership with the New York Blood Center, and distribute food in partnership with the Food Bank of New York City. Lincoln Center will also serve as a polling station for primary elections in partnership with the NY Board of Elections.
From
May 26th to the 31st
, the return of
Fleet Week
to honor the U.S. Navy, Coast Guard, and Marine Corps. Online events are also expected this year,
this is the website where you can stay updated.
And last but not least, we remind you of Mother's Day (May 9th) and Memorial Day (May 31st)
How to celebrate?