New York City Nightlife
If New York City is known as "
the city that never sleeps
," it makes complete sense that the nighttime is as hectic as the daytime full of attractions, activities, and entertainment for everyone and for every taste. Whatever you want to do, you will be spoiled with many options and choices. You want a
romantic dinner
in a good restaurant or some
good live music in famous Clubs
from Jazz & Blues Music to Rock & Roll and Pop, or perhaps a
fun evening at the Theater
to catch a classic Musical or an Off-Broadway Play, or maybe a Movie Theater with one of the largest IMAX screens in the world? You can have it all! Looking for breathtaking views? Then you can opt for an
elegant cruise in the New York Bay
, a cocktail & small bites in one of the
popular Rooftops
, a walk hand in hand in the most romantic and panoramic places or maybe a Limousine that takes you around the City ... Looking for more fun? What about a night at the
Museum for an exclusive after-hours tour
or maybe the world-renowned
Opera at The Met
followed by a classic Southern-style BBQ dinner ... As you can see the list goes on and on!
---
BOOK YOUR TOUR!!
CHECK NOW:
Our Discount Coupons - How to Use and Save.
---
What to do in the Evening around New York: Where to go and How to have fun!
If during the day you will be busy capturing the fast-paced life of New Yorkers, in the evening you can do like New Yorkers do and let yourself be carried away by the nightlights and entertainment of Manhattan! Do not miss the opportunity to
discover the Big Apple at night
, whether it is in a local pub anchored at the counter for a good draft beer or in a restaurant for some ethnic food followed by a night of dancing & live music at a club, try to
mix in with the locals
, New Yorkers, when they are not busy running around, do like to talk .... a lot! And even if you don't feel like talking, just being part of the atmosphere remains the best way to learn more and
experience this incredible metropolis and its lifestyle
. You will probably spend your days walking a lot exploring every corner, but remember to save some energy because the evenings, when Manhattan starts lighting up, offer a unique show with
thousands of flickering lights. I
f the weather cooperates, there are many places where you can experience the best Skyline to photograph and videotape!
Here some advice from our local guide Irene on how to spend a fun evening in New York
.
Panoramic Bars: The Rooftops
You can start the evening by going up to
one of the Rooftops
that you find in Manhattan as well as in Brooklyn, Queens, and especially in Williamsburg. Here, you can enjoy a
good cocktail and the breathtaking view over the Manhattan Skyline
at Sunset until it starts to light up. Whether it's the Empire State Building or the New York Bay, the ONE WTC Tower or the Brooklyn Bridge ... the views from these Rooftops will always leave you speechless!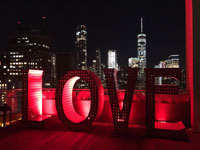 In recent years, Rooftops have become the preferred meeting point of New Yorkers and tourists alike. An opportunity to
mix with the locals
and to enjoy the city seen from above. In addition to cocktails and drinks,
tasty small bites and snacks
are usually also available. Remember that in some venues a smart-casual attire is required, therefore no sneakers, shorts, and flip-flops ... also, make sure to always carry a document with you, they usually
do not allow people under 21
and a
form of ID is always required
to access the Rooftops.
230 Fifth: 230 5th Ave, New York - Always open from 4:00 pm to 2:00 am. 21+ with a valid ID. This is also a good option for anyone traveling with kids and young ones, as it's one of the few rooftops that allows under 21 to access to the lounge before 4 pm.
Bar 54: 35 W 45th St, New York - Always open from 4:00 pm to 1:00 am (until 2:00 am on weekends.) In winter, the popular "Igloos" are placed on the terrace so you can still be "outdoors" without freezing! 21+ only with ID.
The Roof: The Viceroy Hotel Rooftop, 124 W 57th St, New York - Always Open from 4:00 pm to 4:00 am, great for views of Central Park.
Roof at Park South - 125 E 27th St, New York - Open from 5:00 pm to 10:50 pm, and on weekends until midnight.
Top of the Strand - 33 W 37th St, New York - Tel: 646-368-6426 - Always open from 5:00 pm to 01:00 am. Considered amongst the 10 most beautiful Roofs in the world!
St. Cloud - 6 Times Square, New York - Open from 4pm to midnight, great for a partial Times Square view and usually allows Under 21 until 5 pm. Please call to confirm.
Lounge Bars and Pubs
A Lounge Bar is a place where you
usually meet for an after-work
drink/cocktail
or immediately
after dinner
to end the evening with a
nightcap
. In the trendiest areas of Manhattan, you will find many, such as in the
Lower East Side
,
NoMad
and the
Meatpacking District,
but also in Brooklyn, especially around
Williamsburg
, considered the youngest, most hipsters and artistic neighborhood in NYC. They are usually
crowded & trendy places
just like Rooftops however they are usually located on the 1st floor and do not provide much in terms of "panoramic views."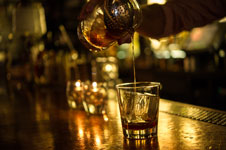 Something more casual?
Then don't forget the
local Pubs!
There are so many scattered all around Manhattan. An evening at the Pub can be fun
especially during football season
from September to January! Catch a game in front of the big Tv screens while enjoying
a cold beer and some tasty wings
(I love the bbq chicken wings) ... it's something that will remain in your memory! At the Pub, you will find the fans of the two teams cheering like crazy without ever getting too unpleasant or creating violent situations (
most of the time at least
), indeed, fun and entertainment is usually the "basic ingredient" of every sporting event and game whether you catch it live in the stadium or on TV.
The Antony, 183 Bleecker Street, New York - Lounge Bar and Restaurant in the Greenwich Village, the perfect atmosphere for an New York Style evening!
Harlem Tavern 2153 Frederick Douglass Blvd., New York a fun tavern which is also a great opportunity to visit the neighborhood of Harlem.
The Ainsworth 122 W 26th St., New York - It has four different locations, choose your The Ainsworth here >> The Ainsworth - official website
Smithfield Hall 138 West 25th Street, New York - In the heart of Manhattan perfect to catch Football games but not only.
Restaurants
A quick and light meal during the day is ok, but when evening comes maybe you can choose from the
restaurants recommended by locals
for some good food, a nice atmosphere and especially the right price! When it comes to Restaurants in New York, it is not easy to choose, a lot depends on your particular tastes, remember that in the
Big Apple all sorts of cuisines come to life
and if you love to experiment with new flavors here you have the opportunity to do so! I want to recommend two excellent restaurants even if a bit on the expensive-side, two eateries where you can find typical Italian dishes but also good pizza at reasonable prices! A
historic Steakhouse
and an equally
historic Delicatessen
. One of my favorite restaurants is in Harlem offering excellent cuisine and the possibility to listen to live music,and last but not least, I recommend a historic Italian Restaurant considered an icon in New York ... high prices and reservations must be made well in advance!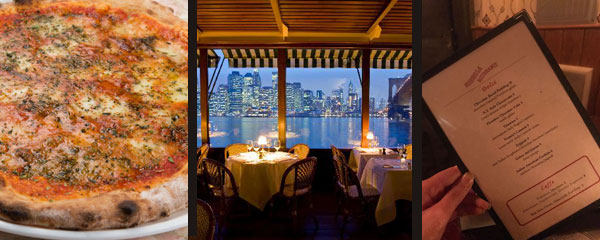 The River Café: 1 Water St. Brooklyn - It is located under the Brooklyn Bridge and offers delicate and refined cuisine, excellent wine list. It definitely boasts some of the best views of Manhattan. Elegant/formal attired required, which means jacket and tie for gentlemen. High prices, especially on the choice of wines ... but it will be a memorable evening!
Union Square Cafe: 101 E 19th St, New York - For New Yorkers, it remains among the best restaurants in Manhattan and I agree!
Mezza Luna 1295 3rd Ave, New York - Here, you are in the Upper East Side on 75th street. From pasta with meatballs to fish dishes and good pizza ... It is a good restaurant with Italian cuisine and good value for your money.
Rubyrosa 235 Mulberry St, New York - You are in Little Italy, I know, a touristy area, but this certainly remains a good Italian Restaurant and their Thin Pizza is delicious --Recommended!!
Grand Central Oyster Bar - A classic venue inside the beautiful Grand Central Terminal station, it closes on Sunday, and in the evening it remains open until 9:30 pm. It can be perfect before theater or for an early dinner.
Peter Luger 178 Broadway, Brooklyn Tel +1 718-387-7400 - Opened as a butcher shop in 1887 and not much has changed since then; Peter Luger the Steakhouse has been in business since the 1890s >> Peter Luger - The Steakhouse since1887
Katz's Delicatessen 205 E Houston St, New York. Historic 1888 Deli in Lower Manhattan on Friday and Saturday open all day! Don't miss it and if you want some information read here >> Katz's
Red Rooster 310 Lenox Ave, New York. Chef Marcus Samuelsson will delight you .. It remains amongst my favorites both for the food and the atmosphere. If you want to listen to some great live music, just go downstairs at the Supper Club >> Red Rooster Harlem
Rao's 455 E 114th St., New York - Tel 212 722-6709. It is located in a corner of East Harlem and has been there since 1896! Difficult to find an open table, you have to book well in advance. It seems to be quintessential New York offering the best of Italian cuisine in the city, a perfect atmosphere that will takes you back to an old New York.
Live Music Club - Jazz Club
New York is the home of Jazz Music
but not only, you can listen to all musical genres from blues, rock, rap, hip-hop, soul ... New York is also home to some of the
most important music venues
such as Carnegie Hall, Radio City Music Hal, the Metropolitan Opera, New York Philharmonic, Lincoln Center, The Apollo Theater, and Jazz at Lincoln Center. If you want to spend an original, yet typical, New York evening you must visit one of the small theaters or local clubs.
Greenwich Village
is home to many and surely the atmosphere is unique, but there are others in Midtown, UWS (Upper West Side) and Harlem too. Also, if you are interested in hearing
Woody Allen play the clarinet
, you can usually find him every Monday at Café Carlyle with the Eddy Davis New Orleans Jazz Band!
Bluenote Jazz Club 131 W 3rd St, New York - Tel: +1 212-475-8592 - Take a seat at the counter or book a table for dinner. As one of the premier Jazz and Blues Clubs in NYC is always featuring internationally renowned artists.
Dizzy's Club Coca-Cola 10 Columbus Circle, New York - Tel:+1 212-258-9595 - It is located on the 5th floor of the Time Warner Center and is part of the Lincoln Center. In addition to excellent Music, it offers amazing views of Central Park!
Smalls Jazz Club 183 W 10th St, New York - Tel:1 646-476-4346 - Although not known by many, and definitively less touristy, it is considered the best place to listen to great jazz artists on the horizon; located in the heart of Greenwich Village.
Birdland 315 W 44th St, New York - Tel:1 212-581-3080 - It opened its doors in 1949 and made the history of Jazz. It is found within walking distance of Times Square and remains one of the historic Jazz Clubs in Manhattan.
Village Vanguard 178 7th Ave South, New York - Tel:+1 212-255-4037 - A "place of worship" for Jazz in the Greenwich Village. Opened in 1935, it continues to give strong "emotions", for those who love music it is not to be missed!
Smoke Jazz & Supper Club 2751 Broadway, New York - Tel:1 212-864-6662 - It is located in the Upper West Side, Jazz, Blues and a good Bistro for a New York evening.
New York Nightclubs
When it comes to
nightclubs in New York
, it is not always easy to make suggestions, much depends on age and music tastes. However, as a general rule, remember that
only people 21 and over can access
Nightclubs, and make sure to
bring a valid ID with you.
Usually Nightclubs are places you go to after 11 pm, and they tend to
remain open until 3 or 4 am
. In New York, as there is a line for everything, you can expect some waiting time to access nightclubs as well! Of course different clubs have different "door policy"; at the entrance you usually have
Bouncers "selecting" people also based on attire and looks
... whether you look cool or not, I guess it's very discretionary. Sometimes if you are just girls, it's easier and faster to enter. Prices may vary, nowadays many clubs do no have entry-ticket, others allow ladies to enter for free and men pay around $30 per person, however, I would say that the majority of
popular Nightclubs do not charge you to get in
; they get you later when you order a drink and it starts at $25 & up! In all honestly, the price for cocktails and alcohol in general varies ...
for a cocktail
, you should expect to
pay at least $12-15 for the house liquor
and this is the low-end, in fancy places expect an
average of $20-25 per drink
, and remember to tip the Bartenders. If you ordered at the bar, I would suggest at least $2/3 per drink or the usual 20% ... if you are at the table with actual service, the usual 18-22% of the check, unless the service has been really bad, of course. If you don't feel like going to clubs on your own, but you don't want to miss the chance to visit and spend few hours in a couple of popular NYC Clusb, you can
opt for a small group tour of the Nightclubs
...
Night Clubs Tour of New York
Here below, I list some of the best-known clubs ... but I recommend reading
Time Out: The Best of New York City Nightlife
MR. PURPLE - 180 Orchard St (Lower East Side)
MARQUEE - 289 10th Ave (Chelsea)
CATCH - 21 9th Avenue (Meatpacking)
LAVO - 39 E 58th St (Midtown)
LE BAIN - The Standard, High Line, 848 Washington St (Meatpacking)
Theaters: Musicals and Off Broadway Plays
In New York City,
a show on Broadway is a must
! Do not miss it, whether it is a
classic Musical or an Off Broadway play
, you must experience "going to the theater" in the Big Apple. Some shows are also perfect for families traveling with children. The actors are always very good and a Musical is especially suitable if you don't have a good knowledge of the language because even if you lose some of the dialogue, the music and the choreography are helpful and the stories are all super well-known. For some Musicals,
it is best to book in advance
, Lion King is almost always Sold-out but you can also try your fortune at the
TKTS ticket office located in Times Square
, the one under the staircase, and choose from their daily offer of same-day tickets at a discounted rate. During the Holidays and Peak Season, you will always find long lines and don't expect to find the popular shows such as Wicked, Lion King, Harry Potter etc.
Schedule of Musicals and Shows on Broadway

Manhattan by Night and The Best Panoramic Views
After seeing what you can do in the Big Apple to enjoy a fun "New York Style" evening, I remind you that
Manhattan at night also means breathtaking panoramic views
and flickering lights ... If you simply want to walk around and
photograph the Skyline
including the Brooklyn Bridge and, why not, the illuminated Statue of Liberty, there are many places where you can just go and take your tripod and maybe have a drink or a cup of tea, if you really want to, while simply enjoying the view and snapping memorable photos. From
the Brooklyn Bridge Park
, you have a view of the Bay, Lower Manhattan Skyline with the ONE WTC Tower, Brooklyn Bridge and the Manhattan Bridge with Jane's Carousel. If you arrive in Queens, just one subway stop away from Grand Central Terminal, you can photograph the Empire State Building, the Chrysler and the UN Palace right from
Long Island City
. If you want to take a
Water-Taxi to New Jersey
, I assure you that the Manhattan Skyline is even more beautiful from the West Side and Jersey, and if you want to add some sightseeing and discover the town of Hoboken, I recommend the Walking Tour --
Hoboken and Splendid Views, Historical City, Sinatra and The Cake Boss
we leave in the late afternoon for a really special evening.
Images: New York by Night photographed by Irene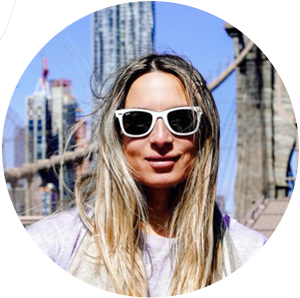 The Photo Tour Experience
Are you interested in finding some good spots to photograph New York at night? To shoot the Manhattan Skyline in the evening, there are some different, but equally perfect, places ...
From New Jersey or from Queens
depending on which section of the Skyline you want to shoot, you will have many options. But remember that New York is great to be photographed at all hours of the day and the night, and not just the Skyline, many attractions and monuments are scattered all over the city, plus, you can have a ball trying to capture the
everyday city life and people around you
... the right light, reflections, sunsets and much more. Having an itinerary can help you, if you are really interested in photography and want to capture the most!
Irene T. - NYC Tour Guide
For any information on organizing possible Photography Tour do not hesitate to contact us!