Tickets - How Much A Bus Ride Costs in NYC
Public buses in New York are run by the same company that manages the subway system, the
MTA
, and the cost of a
single-ride ticket is $2.75
. To pay for your ride, you can use the same Metrocard that you buy at the vending machines located in every Subway Station. If by chance, you find yourself without an MTA card on you, you can still pay the Bus single-ride fare ($2.75) aboard the bus, but
make sure you have coins
with you, no banknotes are accepted, only exact change and no pennies!
If you pay by coins aboard the bus, and your itinerary includes a bus change or a transfer to a subway train, just tell the Bus Driver that you have to make a
Transfer
and you will be given a single-use (not reloadable) Metrocard Card with a black stripe on the back, which you will have to use when you get on the other bus (or subway), the duration of this Transfer Ticket is
2 hours
from the time you paid the original fare. For Express Buses, unlimited Express Metrocards are required (valid for 7 or 30 days.)
If you pay the Bus fare with your regular MTA Card, note that as always the MTA guarantees Free Transfer within a 2-hour window from the first use when switching from
"local-bus to local-bus
", "
from subway to local-bus
", and vice-versa "
from local-bus to subway
", as mentioned before Express Buses are not part of theses Free Transfer system.
We strongly advise you to at least purchase 1 Metrocard with the Pay-per-ride option which is a reloadable card that you can use on both subways and buses, and each ride will cost you $ 2.75. This card will be much easier to manage it reloading it as you need and using it interchangeably between buses and trains guaranteeing yourself the free transfers. Note that you can use 1 MTA card "pay-per-ride" for up to 4 people at the same time.
Summing up the Bus Fares, we have:
Bus Single-Ride $2.75 when paid in exact change
Single-Ride Ticket at Vending Machines $3.00
MetroCard Pay-Per-Ride (from $5.50 to $80), each ride is $2.75
Unlimited MetroCard 7/days $33.00
Unlimited MetroCard 30/days $127.00
Bus Stops Around The City
Bus stops
in New York are
numerous
, there are more than
16,000 stops for 6000 buses
! In Manhattan, you can find bus stops pretty much at every city-block at the intersection of streets and avenues.
MTA Website
To identify the Bus Stop, look for a
tall post with a round sign
at the top with the
bus symbol
on it and the number of the Bus Route underneath it. The
letters indicate the area they serve
:
M >Manhattan
B >Brooklyn
Q >Queens
S >Staten Island
Bx >Bronx
X >Indica la linea Espressa.
Considering both the high number of stops and the intense city-traffic especially during rush-hour, please note that the
bus ride can be quite long
; keep this in mind if you want to use the bus to reach your destination and you have time constraints.
Do you have any idea of ​​the number of passengers who used the bus in New York in 2019?
Over 764 million
!!!
Visiting NYC - Why You Should Use The Buses
NYC Buses are suitable for visitors who want to
enjoy the view of the city
, they are
easy to use and safe
. If you have to move up or down along the same Avenue, it can be a way to rest a bit, if you have to cross Manhattan horizontally from
West to East
(and vice-versa), you will have the
Crosstown Buses
that are perfect for that, also bear in mind that there are not many subway lines that cross the city East-West (and vice-versa.)
In short, if you are not in a hurry and if you prefer to travel above ground,
NYC buses
can be a
good way to explore the city
at a low cost! And then they will take you pretty much everywhere.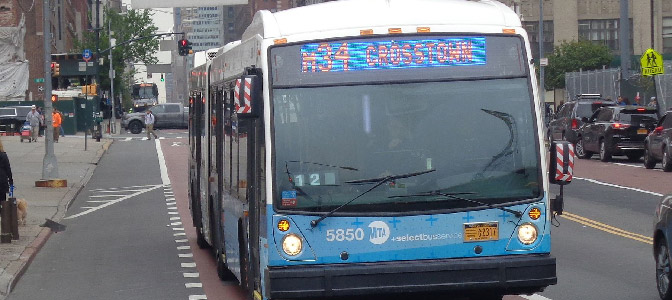 NYC Buses - Hour of Service & Schedule
As impossible as the Manhattan traffic may seem, buses in New York are
usually on time and frequent
. Most of them remain
in service 24 hours a day
, but not all, be careful to check if your bus line provides
night service
as well.
In some cases, especially during peak hours, you will find the word
"limited-stop service"
on some buses. It means that the bus does not make all the stops or might not go all the way to the last stop, in this case, make sure to
ask the driver when you get aboard
if the bus stops where you need to get off.
The Express Buses
In New York City, there are about
61 Express Bus
lines that run mainly
during peak hours and weekdays
. Not having many stops, we advise against it, you risk being very far from the place to visit. The express bus
fare is high -- $6.50
, and it can be paid with the MetroCard Pay-Per-Ride or the
7-day MetroCard Bus Express Plus
or cash, but always with the exact amount and in coins and no pennies. The Express line is indicated by the X and generally, these buses are only used by commuters.
Maps
If you decide to take public buses during your stay in NYC, you will see that it will be quite easy to navigate the system. The buses run vertically
up and down along the Avenues
, almost every Avenue has its own line; horizontally, East-West, they run along the streets, when the buses cross the city East-West, they are called Crosstown, you will find them especially in the central areas of Manhattan (you can find them at 96th, 86th, 79th, 57th, 42nd, 34th, 23rd, 14th and 8th / 9th)
We recommend downloading the updated
MYMTA App
on your phone to get access (both when you are online & offline) to all
Bus Maps & Subway Maps
as well as the
GPS-based direction system
(requires Data or Wifi) that will give you precise directions and alternate routes to go from point A to point B.
Map - Bus Lines

Buses at Night time
Another important thing to know is that from
10pm to 5am the "Request-A-Stop" feature
is available, you can ask the driver to leave you in a specific place along the bus route, even if there is no actual stop. If the driver can safely stop the bus where you asked, he will leave you there.
All regular stops are respected.
Request-A-Stop service is
not available on limited-service buses
.
Useful Tips
There are some basic rules to follow when using the buses, here we see a few.
To get on the bus
, always use the
front door
, there you find the machine where you can insert your MetroCard (or the coins) to
pay for your fare
, if you have to ask the driver for information, do it quickly so you
don't block the other people
behind you and hold the bus at the station for too long. Use the
central and rear doors to descend
the bus, and note the
first few seats
are reserved for
senior citizens and people with disabilities
. If doors do not open automatically, it will be enough, when the bus is stopped, to push along the yellow-lines and doors will open towards the outside to let people off. Request a stop by simply pressing the
STOP button
(usually red and round) or pulling on the
yellow cord along the 2 sides
of the bus. A recorded message will announce the stop. Modern buses might also have TV-monitors to announce the stops.
If you pay in cash and know you have to use another bus, remember to ask the driver for an Electronic Bus Transfer on your way up.
It is good to know that
all buses are 100% accessible
for the disabled and that they have an access ramp.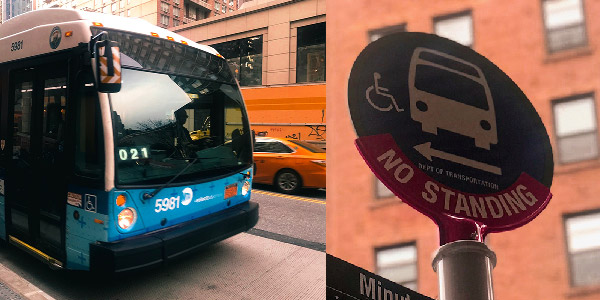 SERVICES YOU MIGHT BE INTERESTED IN:

NEED HELP PLANNING YOUR VACATION IN NYC?
CONTACT US HERE BELOW, WE CAN HELP YOU ORGANIZING YOUR STAY IN THE BIG APPLE!