New York is famous and loved for many things, it offers so much -- museums, monuments, shows, attractions, unique lifestyle, countless cultures and ...
the Skyline!
There are many ways to enjoy the famous Manhattan Skyline,
from the ground, from the water, and from the sky,
for example
flying over New York City
to admire the main landmarks from this unique vantage point is an experience you can
do during the day, at sunset, or at night aboard a helicopter
(private or regular rides) -- the choice is yours!
But what I want to share with you today is a really fun adventure that takes place over New York City. I'm talking about
a night flight (45 minutes long) on a helicopter with no doors
! One of the most incredible experiences ever, it was certainly not the first time that I flew aboard a helicopter over Manhattan, I've accompanied visiting friends and relatives and many customers and each time I'm always as excited as the first time.
As always before recommending an activity or a tour, I have to test it myself, this is part of the "game" ... I meant job! ;-)
So here I am ready to climb aboard, despite my vertigo, aboard a helicopter with no doors to fly over the skies of New York City!
The
views from above are always amazing
, but even more so at nighttime when the city is a mix of twinkling lights. Better than trying to describe it with words, here is a
short video I created to share with you
my experience.
Do you want to see New York from above? In the video you will see:
Statue of Liberty
Empire State Building
Times Square
Brooklyn bridge
The ONE Tower World Trade Center
Central Park
Chrysler Building
and so much more!
Enjoy the ride!
VIDEO - SKYLINE VIEWS
---
Are you interested in a similar experience?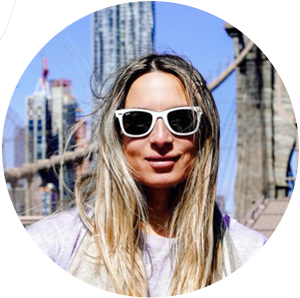 Flying - The Sky Above New York
Whatever your interest: Daytime, Sunset or nighttime flight - A Classic Helicopter Ride or the adventurous one with no doors!
Contact us via Email
Why taking part in this experience? Unique panoramic views from a unique vantage point -- priceless - Irene T. - NYC Tour Guide