Finding fresh and good oysters in New York is not that difficult. Oysters are offered in classic restaurants, steakhouses, bars, waterfront kiosks, and on boats too!!
Sitting outdoors overlooking the bay, savoring oysters accompanied by a good glass of wine is one of the experiences to do especially in the summer season when sitting outdoors with a light breeze becomes really pleasant.
Let's see a few options together.
The Grand Banks -- Where it is and how to get there - Opening Times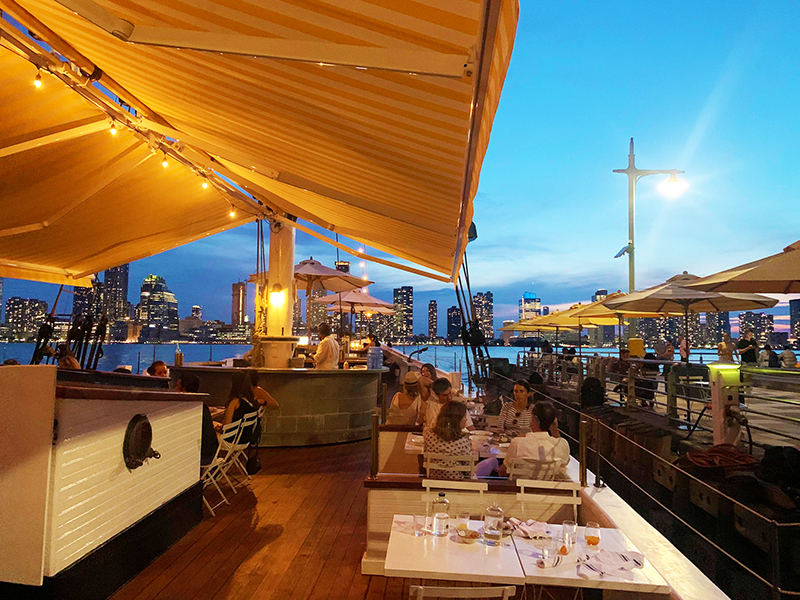 Today, I'm taking you to one of my favorite places in the city. The boat is located on Pier 25 along the Hudson River Park. The closest subway stops are Franklin Street (Line 1) and Chambers Street (Line 1,2,3 or A, C).
Opening Hours:
Monday - Friday from 11:00 to midnight - Saturday and Sunday from 10:00 to midnight (brunch until 2:00 pm)
The History of the Grand Banks
The Grand Banks Boat is so much more than a simple restaurant. We are talking about a historic wooden schooner -- the Sherman Zwicker built by hand and launched in 1942.
Its history begins as a fishing boat, it was part of the Grand Banks fleet plying the turbulent North Atlantic waters. It traded in cod and salt throughout the Americas. It was the latest in a fleet of large wooden schooners and was station in South Shore, Nova Scotia during the summer until 1968.
Later it was sold and brought to Maine where, after being fully-restored, became a museum ship. Control of Sherman Zwicker passed to the Grand Banks Schooner Museum Trust and became a traveling museum. For nearly 30 years, she spent her summers docked at the Maine Maritime Museum in Bath, Maine, where she hosted tens of thousands of visitors each season.
In 2014, the Grand Banks Schooner Museum Trust donated the Sherman Zwicker to the Maritime Foundation to ensure its preservation for future generations.
Here you have the opportunity to taste delicious fish dishes, not just oysters, and enjoy the splendid panoramic views of the Hudson River, the harbor of New York, and the Freedom Tower.
Other Recommended Places for Oysters and Views
Island Oyster: located on Governors Island - The island can be reached in 5 minutes by ferry. Ferries depart in Manhattan from Pier 10 South Street and in Brooklyn from Pier 6. Island Oyster is a one-of-a-kind summer destination in New York City, recently nominated for a James Beard Foundation Award for Best Restaurant Design. Featuring summer fares, tropical-inspired cocktails, and panoramic views of the New York Harbor, Downtown and Midtown Manhattan, Island Oyster offers a true experience and a show worth leaving Manhattan for. No reservations needed, first come first served..






Oyster Bar in Grand Central Station - 89 East 42nd Street, Manhattan. Temporarily closed due to Covid but certainly a name to keep in mind for when things reopen. Don't miss the chance to eat here, it's the oldest restaurant in Grand Central where you can find up to 30 varieties of oysters.Find out more information about Grand Central Here


The Oyster House at Pier A You are in one of the most beautiful piers, recently restored, overlooking the Bay of New York, in front you have the Statue of Liberty with Ellis Island and behind you the ONE Tower.


The Mermaid Inn - Upper West Side - 570 Amsterdam Ave, New York, NY 10024. Opportunity to visit the Upper West Side and they offer year-round Happy Hours from 4:30 pm - 6:30 pm.


Seamore's Nolita - in Manhattan there are other locations, but I would like to point out this one in Nolita - at 390 Broome Street in Lower Manhattan particularly interesting to visit. Check out our Tour of that area here.