Before leaving for New York, here are some things you should know about day to day habits.
If your destination is New York
, let's see together what you should know before traveling and what to expect once you arrive in the Big Apple. Some of this information is valid for the entire United States territory, other pieces are New York specific such as the smoking laws ... other states are much more lenient with this subject.
ARRIVAL IN NEW YORK!!!
Entering the United States Required Documents
ESTA How to enter the United States

What to bring, and not, on your Flight
Do not bring foods, some are prohibited, and others unnecessary, in New York you will find everything. Do not leave valuable items, medicines, or anything vital to you in your checked luggage .... these items should be in your carry-on bag with you always, just think if they lose your luggage and it gets delayed! All that is liquid, such as shampoos, creams, fragrances etc. should instead be placed in checked bag, otherwise TSA personnel will remove them from your carry-on.
Voltage, Adaptors & Electrical Sockets
When traveling there are some devices that are always with us: mobile phone, computer, camera, and video camera and so on .... You should know that in America the voltage is different, here we have 110V and sockets are smaller than the European's. Just a simple universal adapter available in any tech store will suffice, or buy it directly at the airport.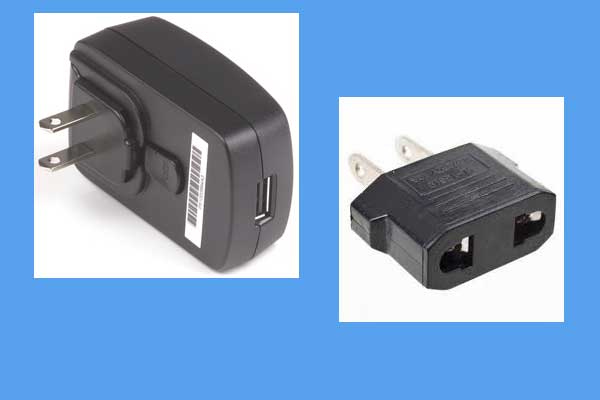 Phone / Internet: Operators, Prefixes, Browsing the Internet
Roaming, which allows you to surf the Internet abroad and consequently use all of your device' applications can be quite expensive, but in New York you can easily find bars, cafes, and perhaps the lobby of your Hotel where you can take advantage of Free Wi-Fi and check your social accounts, emails, and download applications you might need during your stay. Before leaving check that your phone is tri- or quadr-band or UMTS and inquire with your Service Provider for special plans offered for service in the United States such as incoming and outgoing calls, text messages, and data. The competition among providers is very high now, and the rates for international plans should be lower, however, many providers require you to subscribe and activate the selected plan before leaving otherwise they charge you "a la carte" and that can be quite expensive.
To call your country with your cell phone you have to make the International Area Code for your country (check online) and then the actual phone number, but if you have to call within the United States you need to add +1 before the number..
Once you arrive at your destination, let's see what are the day to day habits in the city, what is good to know about the laws in order to avoid fines, tickets or worse.
How to pay in the United States: Credit Cards - Prepaid Cards - ATM - Currency - Banks
The currency is the US dollar $ USD, if you decide to bring cash with you please remember to exchange currency in your home-country; the exchange rates applied here in the States are the worst! In New York, as in the United States, the use of the credit cards is extremely common, even at a Starbucks Coffee from 2$ you pay with credit cards, restaurants, shows, shopping in stores, museums and attractions .. MTA Card for the Subway and Buses .... You can literally pay almost everything using your credit card. With a prepaid credit card and / or your ATM card, you can withdraw cash at any ATM, but also make direct payments, even though in some instances prepaid cards do not seem to work when you swipe them at the store. Know that you will be asked for a photo ID to verify your identity, so bring your license / ID card or a copy of your passport. Before leaving check with your bank about the fees that they will debit for payments and withdrawals abroad, and inform them of your travel plans to avoid card blocks when they see unusual charges.
Smoking / Alcohol / Gratuities
Are you still among those who smoke? New York does not like smoking all that much, and it will be really difficult to find a place to do it without feeling "out of place" ..... do not smoke in any indoor places, offices, museums, restaurants, theaters, hotel lobbies and rooms, etc.. Often, you will see that smoking is also banned in front of some buildings, there will be a posted sign telling you how many feet from the entrance you have to go to smoke ..... (Starbucks for example is one of them). Do not smoke in parks, small or big, some residences are smoking-free ... and if this is not enough, the cost of cigarettes here will make you laugh! A pack is approximately $15.00 ... No smoking if you are under 21, and when you buy cigarettes they will ask you for a photo ID proving your age.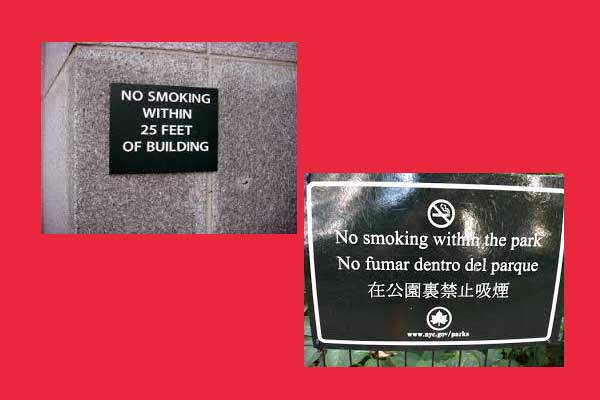 A Photo ID is also requested for the purchase of wine and spirits
in stores that have the liquor license to sell alcohol; It's forbidden to drink for anyone under the age of 21, minors cannot be right in front of the counter at the bar in pubs, restaurants, bars and the Bar Attender will immediately ask for your ID. The same in the restaurant, the waiter will ask an ID to those who order alcohol. It is forbidden to drink on the street and don't you dare driving the car under the influence .... even if you have been drinking just one glass you can get into serious trouble ... how do you say "Zero Tolerance"?!
Why you should leave tips in New York. Tipping is used throughout the States.
Now, let's discuss Tips
. What we call Tips, or Gratuities, must almost always be left, unless something went wrong. I understand it can be a difficult concept to understand, and it's not common abroad, so let me try to explain it: The tip should always be left as a result of a service, so here, we leave it to the waiter in the restaurant, to the beautician at beauty salon, to the taxi driver, to the bartender at the bar; even at Starbucks or other Coffee Shops you will see a jar next to the cash register where you can leave something ... The Hotel personnel that will help you with the suitcases, the guy who delivers the shopping bags or groceries at home ... It's not just a reward that says that you appreciated the service rendered to you, but consider it as vital part of the actual pay for the service received.
A New Yorker
when he /she goes to a Restaurant tend to leave at least 18-20% in tips, and even more when he's very satisfied with the service received! Leave at least 2/3$ to the bartender for each drink. Taxi drivers around 10 - 15% of the total run, even at the manicure - pedicure salon and in New York there are so many and they are all a blessing after walking all day in the city, here you can leave 15-20% .... In the restaurants, if you are a group of 5-6 people, you may find the gratuity (tip) already included and is usually around 18%, that is the standard minimum, at this point it is up to you to decide whether to leave some extra dollars to the waiter, if you enjoyed his service. Again, tips here are not just a reward, all these people because they work in fields were tips are considered customary, have a much lower hourly-rate than everybody else. Just as an example, a waiter hourly-pay can be as low as $5.00 per hour because they keep the gratuities, so don't forget them when you pay your tab!
To the Tour Guides
who accompany you during the Walking Tours, it is customary to leave a tip, and if the tour is by car or bus, then it is customary to leave a tip to the driver as well, at least $ 5 for each.
Weather: Rainfall and Temperature. What to do in NYC
Choose the season for your New York trip
based on climate, events and events. Tips on how to dress and what to wear in each season. What to do and see in:
Summer in New York
Spring in New York
Full in New York
Winter in New York
Transportation in New York City Info
See all Public Transportation in New York: Subway - Bus - Watertaxi - Uber