DOVE:
5th Avenue e 89th Street
ORARIO:
10:00 am - 5:45 pm
ATTIVITA':
Turismo - Musei - Arte - Architettura
The Solomon R. Guggenheim museum, often simply called The Guggenheim, is one of the most important museums of modern art in the world. It's located on Fifth Avenue and 89th street.The building that houses the museum was designed by Frank Loyd Wright and represents one of the most distinctive works of modern architecture. The museum opened in 1959, between 2005 and 2008 the Museum underwent an extensive renovation. From the street the building looks a white ribbon curled into a cylindrical stack and its appearance is in sharp contrast to the more typically boxy Manhattan building. Initially this distinctive building caused negative critics because of its architecture but today is world-wide acclaimed as one of the most important architectural landmark of the 20the century.

Where is the Museum and how to get there
It's located on Fifth Avenue and 89th street. If you are in Manhattan or in the neighborhoods, the best thing is to get there on foot if you are staying in the upper West of Manhattan just enough to cross the park, Central Park can be beautiful any season. Otherwise the Metro or Bus lines that reach the entrances to the Guggenheim Museum are:
Subway: 4/5/6 e linea Q
Bus: M1, M2, M3, or M4
See Map for Direction
Internally, the viewing gallery forms a gentle helical spiral from the main level to the top of the building and paintings are displayed along the walls of the spiral and as well in exhibition space found at annex level. The museum showcases the works of history's greatest modern and contemporary artists and painters: Piet Mondrian, Paul Cézanne, Edouard Manet, Marc Chagall, Edgar Degas, Pierre-Auguste Renoir, Paul Gauguin, Vasily Kandinsky, Joan Mirò, Pablo Picasso, etc.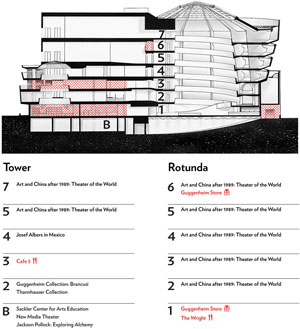 The Museum has two distinct sections, the Rotunda, as it is called the spiarale that always hosts temporary exhibitions and the Tower that houses the permanent Guggenheim Collection.
Rotunda First Floor: The Whrite Shop and Restaurant
Rotunda From the Second Floor to the Sixth: Exposition in Progress Art and China after 1989: Theater of the World
Second Floor Tower: Branqusi Collection and Permanent Collection
Third Floor Tower: Cafe 3
The Guggenheim Museum Hours
From Sunday to Wednesday 10AM – 5.45PM
Friday 10AM – 5.45PM
Saturday 10AM – 7.45PM
Closed Thursdays, Christmas, and Thanksgiving Day
General information: +1 212 423 3500
The Guggenheim Museum Admission
Adults $25
Students and Seniors (65 years +) with valid ID $18
Children under 12 Free
Members Free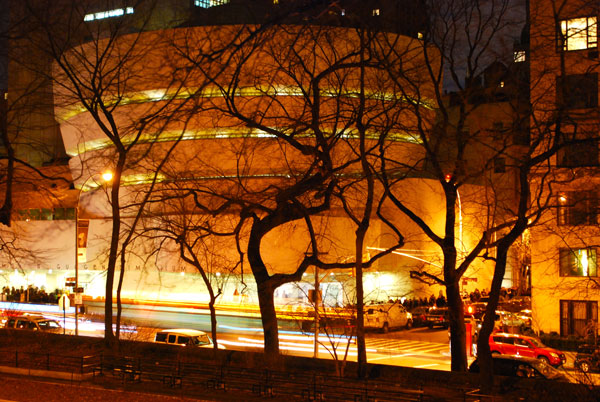 The PASS including the entrance to the Guggenheim Museum