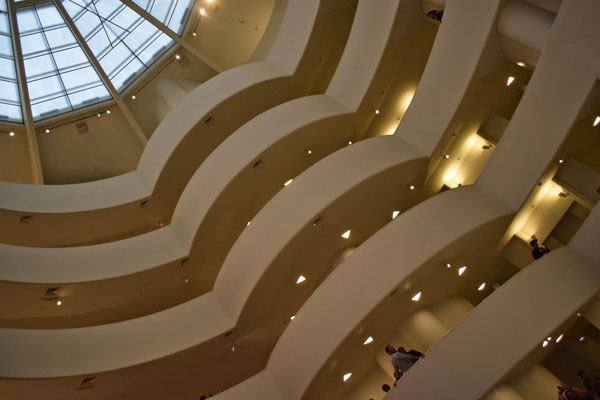 Useful Tips - How to visit the Museum
Especially if it's your first time visiting the Museum, we recommend starting your visit from the top floor making your way down using the spiral ramp ... After presenting your ticket, you should head towards the elevators to reach the last floor. From there, you should really just use the main spiral staircase to go from floor to floor. For those of you that are regular visitors, then you can do as you pleased ... complete freedom to zig-zag around, after all a Visit to the Guggenheim Museum is always a special occasion!
The Wright Restaurant,
awarded by the James Beard, offers American cosine with bistro-style first courses and main courses in an elegant ambiance.
Where is the Museum and How to get there
The Museum is located right on Fifth Avenue and 89th street. If you are in Manhattan or in the neighborhood, the best thing is to get there on foot ... If you are staying in the Upper West Side of Manhattan, you just need to cross the park -- Central Park can be beautiful in any season. Otherwise, if you are located further away from the Museum, the best Subway and/or Bus lines are:
Subway: 4/5/6 and the Q
Bus: M1, M2, M3, or M4
See Map for Direction
Internally, the viewing gallery forms a gentle helical spiral ramp from the main level to the top of the building where paintings are displayed along the walls of the spiral, as well as in exhibition spaces found at each annex level. The museum showcases the works of some history's greatest modern and contemporary artists and painters: Piet Mondrian, Paul Cézanne, Edouard Manet, Marc Chagall, Edgar Degas, Pierre-Auguste Renoir, Paul Gauguin, Vasily Kandinsky, Joan Mirò, Pablo Picasso, etc.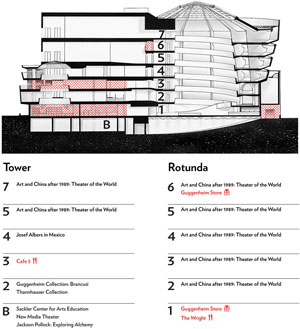 The Museum has two distinct sections, the Rotunda, as it is called the central portion of the Museum with its Spiral ramp that always hosts temporary exhibitions and the Tower -- adjacent to the Rotunda -- that houses the permanent Guggenheim Collection.
Rotunda First Floor: The Shop and The Wright Restaurant
Restaurant Opening Hours:
From Mon to Fri: 11:30 am - 3:30 pm
Sat and Sun: 11:00 am - 3:30 pm
Rotunda From the Second Floor to the Sixth:
Exposition in Progress: Art and China after 1989: Theater of the World
Second Floor Tower:
Brancusi Collection and Permanent Collection
Third Floor Tower: Cafe 3
Cafe Opening Hours:
Mon,Wed,Thu,Fri,Sun: 10:30 am - 5:30 pm - Tue,Sat: 10:30 am - 7:30 pm
Exhibits Scheduled for 2019
Hilma af Klint: Paintings for the Future - The Retrospective will be showcased until April 23rd, 2019
Robert Mapplethorpe: Implicit Tensions - January 25th, 2019 to January 5th, 2020
Guggenheim Collection: Brancusi - Permanent
Thannhauser Collection: permanent
The Guggenheim Museum Hours 2019
Monday 10 am–5:30 pm
Tuesday 10 am–8 pm
Wednesday 10 am–5:30 pm
Thursday 10 am–5:30 pm
Friday 10 am–5:30 pm
Saturday 10 am–8 pm, pay-what-you-wish 5–8 pm
Sunday 10 am–5:30 pm
Closed Dates:
May 23
November 14 (TBC)
November 28, Thanksgiving Day
December 25, Christmas Day
The Guggenheim Museum Admission
Adults $25
Students and Seniors (65 years +) with valid ID $18
Children under 12 Free
Members Free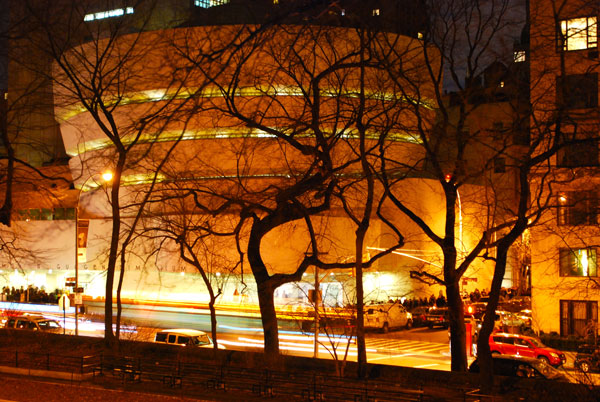 The PASS including the entrance to the Guggenheim Museum