New York at Christmas is the perfect time of year for the whole family. You will be spoiled for choice, including events and shows. The official beginning of the holidays is the ignition of
. The ceremony, this year, will be on 4th of December, will be held from 6.30pm to 9pm. If you want to attend, we advise you to arrive very early.
and ornaments. Many activities, shows and events take place during this time of the year.
, with over 100 boutiques, is very popular and here you can find gifts and arts crafts from around the world. Other famous
The most famous Christmas tree lighting ceremony is Rockefeller Center. This tradition began during the Great Depression, when Rockefeller Center was under construction and the workers had decorated a Christmas tree as a good omen. Since then, a tree is positioned in the square and thousands of people attend the tree's lighting ceremony.
The show is attended by famous names of singers and actors and is broadcast worldwide. During the holidays in Rockefeller Center
"
The Rink" is opened, the most famous skating rink in the world,
filmed in several films, is crowded with New Yorkers and tourists.
But if we talk about Lights and Christmas there is a road that you absolutely must visit, it's in Brooklyn and it's called Dyker Heights. They are without a doubt the most admired Christmas Lights in New York. The atmosphere enchants everyone small and large.
Christmas lights at Dyker Heights
Other skating rinks in New York, the most popular are:
Bryant Park
, behind the Public Library
The Wollman Rink
Central Park.
Bryant Park - Wollman Rink - Rochefeller Center
The windows in Fifth Avenue and Shopping
Another very
popular attraction in New York are the department stores windows along the Fifth Avenue
, true artistic masterpieces, reproduce Christmas scenes with music and lights, all in natural size. As you have seen in many movies, long lines are formed, families with children, young people and adults all lined up to go in front of the windows and photograph them.
The most famous are those of Bergdorf Goodman, Saks Fifth Avenue, Tiffany offers real gems ... in every sense .... along with Cartier, Gucci, Armani, Fendi, Versace, Chanel, Bulgari ....
Do not forget Macy's Herald Square on Broadway and 34th, Barneys on Madison Avenue and 61st and the famous Bloomingdale's stores on Third Avenue and 59th Street.
Saks Fifth Avenue on Fifth Avenue and 49th Street
Macy's Herald Square is located on Broadway between 34th and 35th Street.
Bergdorf Goodman on Fifth Avenue and 58th Street.
Bloomingdale's on Third Avenue and 59th Street
Barneys on Madison Avenue and 61st Street
FAO Schwarz at 30 Rockefeller Plaza
Tiffany Fifth Avenue and 56th Street.
Black Friday in New York: when and where to shop
If you are in New York for Thanksgiving Day, you can give yourself the best shopping the day after, what here in America is known as Black Friday. A real assault on the shops that on that day offer great promotions!
All the department stores we have selected for Christmas showcases offer huge discounts, we also add the
Shopping Mall at Columbus Circle
and the two newest
Mall at Brookfield Place
and
the Oculus Mall
at the
World Trade Center.
Right in front of the WTC you also have
the famous Century 21st.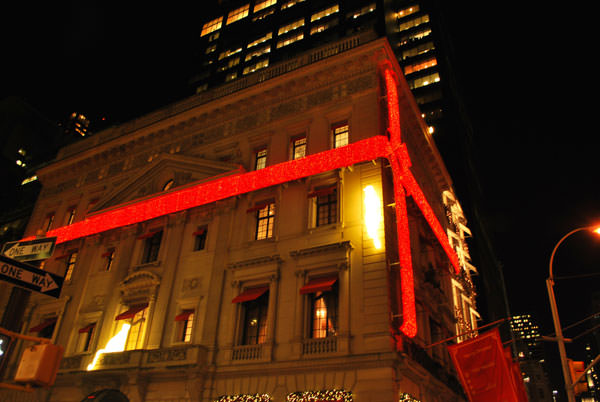 If you want to organize some excursions, like the Brooklyn Lights Tour, in the famous Dyker Heights neighborhood or the Christmas Eve Dinner, a visit to Harlem with Gospel choirs and Brunch, visit our page:
If you want to attend a Broadway Musical or a Christmas event
, like the Rockettes Show at Radio City Musical Hall:
How to Book Broadway Musical Tickets
The real magic then lies in finding a bit of snow .... look it's not hard to believe it.