Honoring the victims is the mission of the 9/11 Memorial Museum
. We remember almost 3,000 victims of the terrorist attacks that occurred on 9/11, and honor all of those who risked their lives to save others. It is for this reason that we always remind visitors to explore the Memorial with the utmost respect, mixed with the crowds of visitors, still today we can find family members who stand near the pools, bringing a flower, and touching the name of their loved ones written on the edge of the pool... After more than 15 years later, when we talk about the
9/11 Memorial
, we refer not only to the reflecting pools, but we also refer to the
9/11 Tribute Center
and the "
9/11 Museum
"
The Memorial's twin reflecting pools
The Memorial's twin reflecting pools are
open to the public and do not need a reservation to be visited.
The Reflecting Absences gives testimony to all the 2983 names of the victims written on bronze plates that form their edges of the pools. Feelings and emotions during the visit are very strong, and if you want to deepen your knowledge on what happened that day, and how the city of New York reacted to this catastrophic event, we highly recommend you visit the Museum and the 9/11 Tribute Center.
The 9/11 Tribute Center
The 9/11 Tribute is located at 92 di Greenwich Street,
The museum shows videos, artifacts and tells the story of the people through the testimonies of those who lived the events, highlighting the spirit of great resilience and participation among New Yorkers that developed after the attacks and which continues today through volunteering. Ticket price for the 9/11 Tribute: $ 15.00 adults - $ 10.00 students - $ 5.00 children (8/12).
The 9/11 Memorial Museum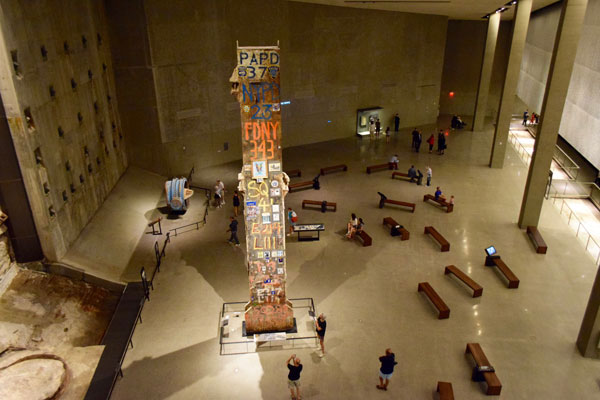 Foundation Hall
The 9/11 Memorial Museum is located at 180 Greenwich Street
. On average, a visit can take about two hours. The historical exhibition extends to three different sections: the day of September 11, before September 11 and after September 11 and tells us the story of what happened before, during and after that day. .
The exhibition, named "In Memoriam"
, commemorates the lives of those who died on September 11, 2001 and February 26, 1993.
The Foundation Hall is a massive room
, about 18 meters high and occupies a 1400 square meter space. There is an original wall section of the World Trade Center that has survived the devastation of September 11, and a 10-meter high column, covered with memories, messages, and missing-people posters placed there by workers, rescuers, and family members. Tickets Prices Museum 9/11: $24 adults – $18 students and seniors (+65) – $15 kids (7-17 year) – free under 6-year
Hours of Operation: Memorial, 9/11 Museum & 9/11 Tribute
The Memorial's twin reflecting pools
Monday to Saturday 7:30am - 9:00pm
9/11 Tribute center
From Monday to Saturday 10:00am - 6:00pm. Sunday 10:00am - 5:00pm
9/11 Memorial Museum
From Sunday to Thursday 9:00am - 8:00pm
Friday & Saturday 9:00am - 9:00pm
One World trade Center: ONE TOWER
The One World Trade Center houses The Observatory @ 102nd floor. Do not miss to admire the city of New York. "
ONE World Trade Center
"
Activities that may interest you:
If you like to organize customized tours, by foot or by car, please contact us:
Email-us